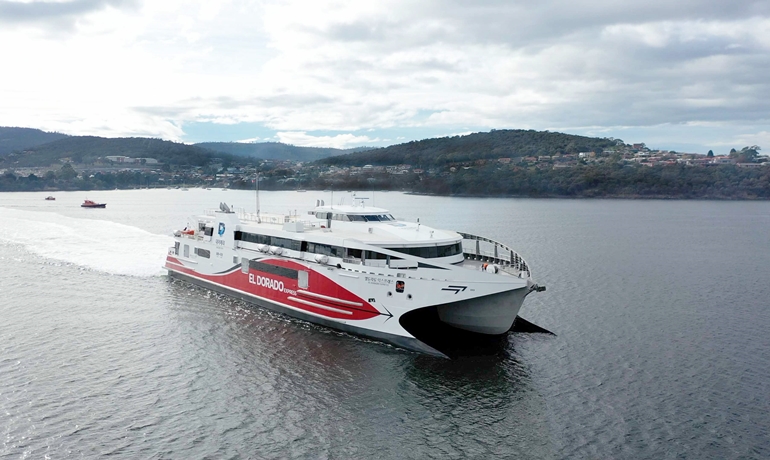 EL DORADO EXPRESS © Incat
Incat Tasmania delivers high-speed catamaran for South Korea
High-speedIncat Tasmania has handed over the 76-metre high-speed passenger catamaran EL DORADO EXPRESS to South Korea's Daezer Ferry. EL DORADO EXPRESS is predominately a passenger craft with ramp and cargo space forward.
She will operate for Daezer Ferry on the crossing between Pohang and Ulleung, an island 117 nautical miles off the eastern coast of South Korea supporting the needs of local residents and providing a service for tourists to the Islands.  
Incat Tasmania Chairman Robert Clifford says Incat is no stranger to Korean waters having delivered its first vessel to the region in 1995, the still highly regarded SUNFLOWER. "The SUNFLOWER served Ulleung island for 25 years and was only recently retired by Daezer in compliance with Korean ship age limits," he says.  
The El Dorado Express will provide passengers with a smooth ride and enhanced onboard experience thanks to Incat's tried and proven evolved wave-piercing hullform and centre-bow arrangement.
Designed by Revolution Design the EL DORADO EXPRESS is a truly fast vessel, reaching an impressive speed of 50.2 knots on sea trials with 100 tonnes deadweight.  
On board EL DORADO EXPRESS passengers can enjoy an abundance of natural light in a high-quality interior featuring comfortable seating, durable timber-look walkways and tasteful bulkhead panelling. The stylish accommodation is situated across two decks: Tier 1 with seating for Tourist passengers and Tier 2 for both Business and VIP classes.  
The aft end of Tier 2 boasts 92 luxurious Eknes Pacific Sleeper-1400 VIP seats affording every comfort at sea. Dividing the VIP area from the forward-facing Business lounge is a bar serving food and snacks. A services block houses male and female toilets as well as the lower wheelhouse electronics room. In this lounge Eknes has also supplied the 352 reclining seats from its Supa Nova range.
The remainder of the vessel's seating is found on the lower deck. The space is divided by a centrally located kiosk, food preparation area and bar with wide counter area allowing customers easy viewing and access while preventing crowding and long lines. At the aft end of Tier 1, a room is provided for passengers wishing to travel with their pets. A well-appointed crew mess divides the pet room from a patient room, provided for the benefit of patient transfer from the island to the mainland.
Evacuation facilities for passengers and crew on board EL DORADO EXPRESS comprise four Liferaft Systems Australia Marine Evacuation Stations, two port and two starboard.
As with all large Incat vessels the superstructure, Tier 2 and above, is an independent structure, connected to the hull via rubber isolation mounts, for optimum noise and vibration performance.
Forward of the Tourist cabin on Tier 1 is the 190 sqm Cargo space with wide side loading access for palletised goods. For cyclists there is ample bicycle rack storage.
Situated atop the passenger deck, EL DORADO EXPRESS's wheelhouse features the latest navigation, monitoring, and control equipment. The vessel offers views from raised helm seating, with all instruments fitted in dark grey and black consoles to aid night vision and minimise distraction. For docking, wing station controls are provided. A separate ship's office and lounge is located aft of the bridge where crew can lay-out charts, plan voyages or relax from day-to-day activities.
The craft is equipped with four Caterpillar C280-16 engines which each deliver 6,000kW at 100% MCR. Each engine drives a steerable Kongsberg Kamewa S90-4 waterjet via a Reintjes VLJ 4431 gearbox.  
Supplying electrical power are two Caterpillar C7.1 generators rated at 200 ekW each and 380V, 60Hz.
The ship left Hobart in the afternoon of 22 May on delivery voyage from Hobart to Pohang under the control of her new Korean crew, with an Incat electronics technician and mechanical engineer on board. It will re-fuel at Gladstone, Port Moresby and Davao in the Philippines.
EL DORADO EXPRESS - Principal Particulars
Builder: Incat Tasmania Pty Ltd
Design: Revolution Design Pty Ltd
Class: DNV +1A1 HSLC R1 Ferry EO
Operator: Daezer Ferry
Route: Ulleung - Pohang
Length: 76.7 metres
Breadth: 20.6 metres
Draft: 3.02 metres
Gross Tonnage : 3,158 gt
Deadweight: 167 tonnes
Passengers & crew: 990
Cargo: 25 tonnes
Main engines: 4 x Caterpillar C280-16
Speed: 50.2 Knots @ 100% MCR @ 100 tonnes deadweight
© Shippax
---