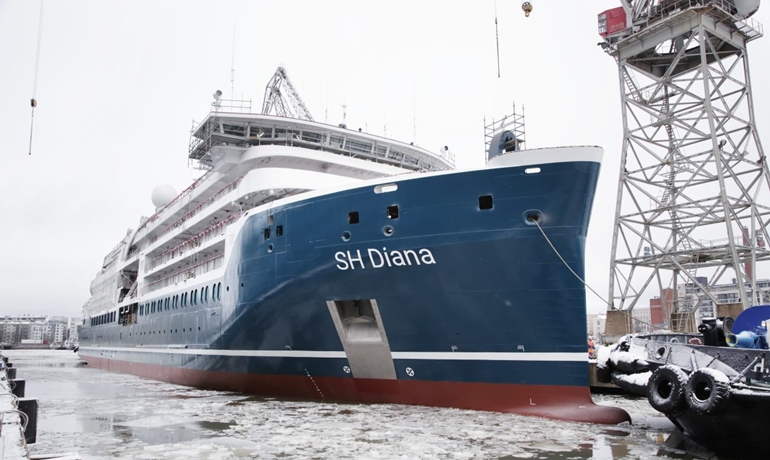 © Helsinki Shipyard
Helsinki Shipyard floated out Swan Hellenic's SH DIANA
CruiseFinland's Helsinki Shipyard floated out expedition cruise line Swan Hellenic's latest vessel, the largest built to date – the 125m, 12,500 gt SH DIANA. The new vessel is currently undergoing outfitting work alongside in Helsinki, before undertaking her maiden cruise from Palermo, Sicily, on 15 April, a cruise to the Arctic, via Lisbon.
The luxury expedition vessel is being built to Polar Code PC6.
SH DIANA was bought by Swan Hellenic in December 2022, following her original owner, Russian bank GTLK Europe, failed to take delivery of the vessel.
SH DIANA can carry 192 passengers in 96 cabins and suites. compared to the 152 passengers carried by her two fleet mates SH MINERVA and SH VEGA, which were delivered in 2021 and 2022. The battery hybrid vessel is powered by four diesel-electric main engines (4.6 MW) and also features a 3 MW battery package.
Exterior design of SH DIANA was undertaken by Monaco's McFarlane Design, while the interior design of the vessel has been undertaken by Tillberg Design of Sweden.
© Shippax / MH
---