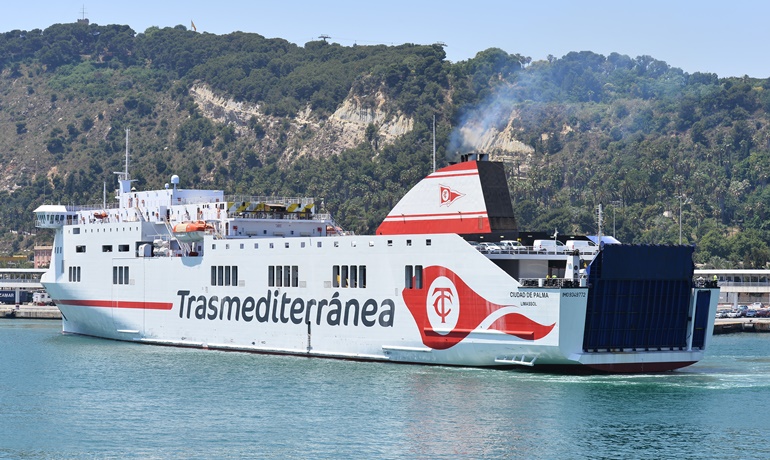 The Visentini Class CIUDAD DE PALMA is one of five ro-pax ferries to be taken over by the Grimaldi Group. © Marc Ottini
Grimaldi throws lifeline to Armas Trasmediterránea, entering the Balearic trade
FerryThe Grimaldi Group and the financially beleaguered Armas Trasmediterránea Group, Spain's leading ferry operator, have today, 13 April, signed a Memorandum of Understanding (MOU) whereby the Italian ferry tycoon will take over certain assets and property rights of Armas Trasmediterránea Group in what is regarded as a first step towards a closer collaboration between the two ferry groups.
The MOU focuses on Armas Trasmediterránea's Balearic activities whereby Grimaldi Group will take over five ro-pax ferries and the concessions of Armas Trasmediterránea Group's terminals in the ports of Valencia and Barcelona. The Italians will also acquire offices – including ticket offices – and warehouses on the Balearic Islands of Mallorca, Menorca and Ibiza.
The following ro-paxes, serving various connections in the vast Armas Trasmediterránea network, have been earmarked to be taken over by Grimaldi Group:
- CIUDAD DE PALMA, a 2007-built Visentini Class ro-pax with a capacity of 2,247 lanemetres, 195 cars and 877 passengers;
- CIUDAD DE GRANADA, built as SOROLLA for Trasmediterránea in 2001 with a capacity of 1,500 lanemetres and 1,250 passengers;
- CIUDAD DE MAHON, a Racehorse Class ro-pax vessel built in 2000 as NORTHERN MERCHANT with a capacity of 1,950 lanemetres and 589 passengers;
- VOLCAN DEL TEIDE, a ro-pax originally built for Naviera Armas in 2011 with a capacity of 1,850 lanemetres and 1,500 passengers;
- VOLCAN DE TIJARAFE, a ro-pax originally built for Naviera Armas in 2008 with a capacity of 1,500 lanemetres and 1,000 passengers.
As part of the agreement between both parties, Grimaldi Group will also purchase the rights to transport passengers and goods on the following routes connecting the Spanish mainland with the Balearics: Barcelona-Mahón (Menorca); Barcelona-Palma de Mallorca; Barcelona-Ibiza; Valencia-Mahón; Valencia-Palma de Mallorca; and Valencia-Ibiza.
A 'due diligence' will now be carried out with the aim of signing a definitive agreement, starting operations under the new ownership in time for the summer season.
Antonio Armas Sr., president of Armas Trasmediterránea Group, commented, "For our group this is not a withdrawal from the routes to the Balearic Islands since we will continue to carry out, in collaboration with such an important shipping group on the world stage, a large commercial activity that will allow us to offer our customers an extensive network of international maritime routes."
Emanuele Grimaldi, Grimaldi Group's MD, said: "I am very happy to have signed this important agreement with Antonio Armas, with whom we immediately established a relationship of great mutual esteem and laid the foundations for a fruitful collaboration.
"Upon completion of this operation, our group will extend its range of maritime services also to the Spanish domestic market, generating new synergies with the other connections we operate in the Western Mediterranean."
The Armas family originates from the Canaries and its core operations in this part of Spain are excluded of this MoU. The takeover of Trasmediterránea by Naviera Armas was first announced in late October 2017. Financial difficulties were first reported early last year with the COVID-19 crisis having made things only worse.
© Shippax / PHO / PR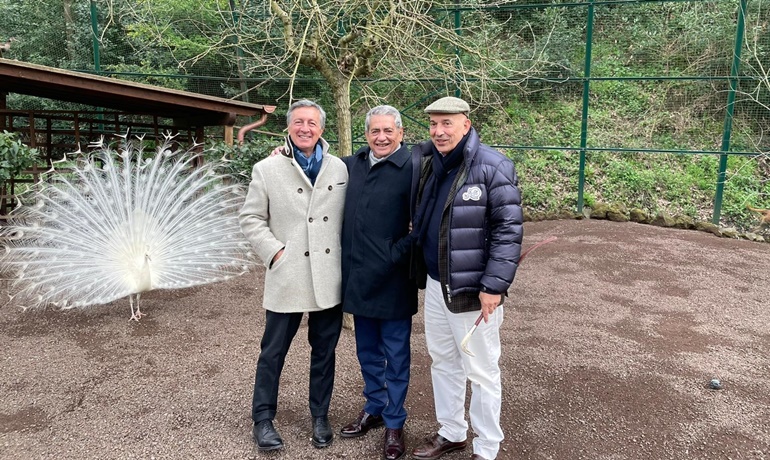 Proud shipowners - from right to left: Emanuele Grimaldi, Antonio Armas Sr. and Diego Pacella, Emanuele Grimaldi's brother-in-law. © Grimaldi Group
---
Most read
Press Releases
Dec 03 2021
Construction begins of Silversea Cruises SILVER NOVA
---
Dec 03 2021
Contract awarded for piers upgrade for new Islay ...
---
Dec 03 2021
Zinus technology selected for two more norwegian ...
---
See all press releases
Products