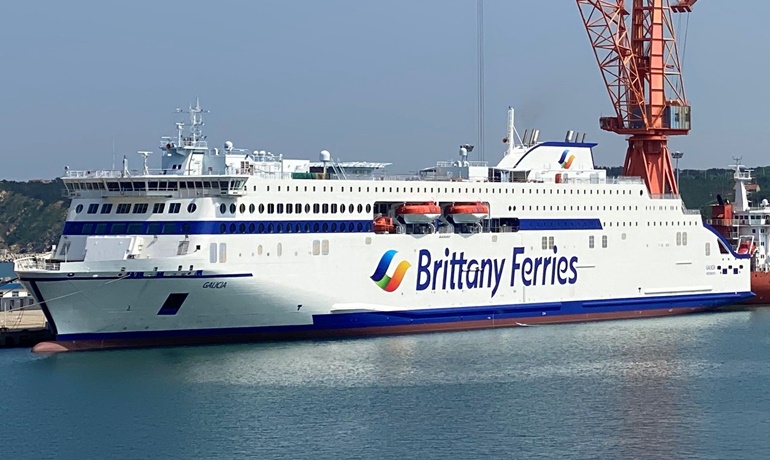 To be officially delivered in about two weeks' time: GALICIA. © CMI Jinling Weihai Shipyard
GALICIA almost ready for delivery – take a sneak peek on board
FerryAhead of the official acceptance of the E-Flexer Class GALICIA by Stena RoRo, CMI Jinling Weihai Shipyard held a 'delivery ceremony' on 20 August. The official delivery is expected in about two weeks' time.
CMI Jinling Weihai Shipyard held a 'delivery ceremony' ahead of GALICIA's official hand-over to Stena RoRo. © CMI Jinling Weihai Shipyard
GALICIA is the third E-Flexer in a series of nine on order for Stena RoRo at the Chinese yard. The first two vessels, STENA ESTRID and STENA EDDA, were delivered in mid-November 2019 and mid-January 2020, serving Stena Line's Holyhead-Dublin and Birkenhead (Liverpool)-Belfast services, respectively. The latter will be joined by STENA EMBLA, the fourth E-Flexer, early next year.
GALICIA will be long-term bareboat chartered by Brittany Ferries, flying the French flag. In addition to twice weekly Portsmouth-Santander sailings, GALICIA will operate a weekly Portsmouth-Cherbourg roundtrip. The vessel, which follows the same dimensions as the standard E-Flexer with a length of 214.5m and 27.8m beam, has been adapted to Brittany Ferries' specific requirements.
The intake of the three vehicle/freight decks remains unchanged at 3,100 lanemetres, yet the separate 120-car vehicle deck on Deck 7 aft has been filled with cabins. By doing so, as well as extending the deckhouses on both Deck 7 and Deck 8, further illustrating the flexibility of the design, the number of cabins could be increased from 175 or 684 berths on a standard E-Flexer to 343 or 1,233 berths on GALICIA. Other modifications include two in-line exhaust gas scrubbers – one for each main engine – and two additional lifeboats, reflecting the ship's higher passenger intake and complement of 1,100 people in total.
The interior design remained in the hands of Figura's Richard Nilsson, with whom Stena has a longstanding cooperation. The lay-out of the public spaces on decks 7 and 8 largely follows that of the standard E-Flexer with certain spaces being given a different function, while fabrics, decorations and the colour palette evoke a taste of Spain and the region after which the ship has been named.
Brittany Ferries will long-term bareboat charter two more E-Flexers from Stena RoRo – the SALAMANCA and SANTOÑA, which are due for delivery in 2022 and 2023. The accommodation of these vessels will be similar to that of GALICIA, but the pair will be LNG-powered with two 350m³ LNG tanks in the lower hold reducing the lanemetre intake from 3,100 to 2,758 metres.
The three other ships in the E-Flexer series will be further modified versions of this 'one-size-fits-all' design. The fifth ship in the series, the CÔTE D'OPALE, will be delivered in late June 2021 and will be taken on long-term bareboat charter by DFDS for Calais-Dover service. CÔTE D'OPALE will be customised for this demanding 90-minute crossing with a reshaped bow, adapted stern, additional bow thruster and modified accommodation, among other modifications.
Ships number seven and eight will be lengthened versions for Stena Line use with a capacity of 1,200 people (263 passenger cabins), 3,600 freight lanemetres and 200 cars on a separate upper car deck.
© Shippax / Philippe Holthof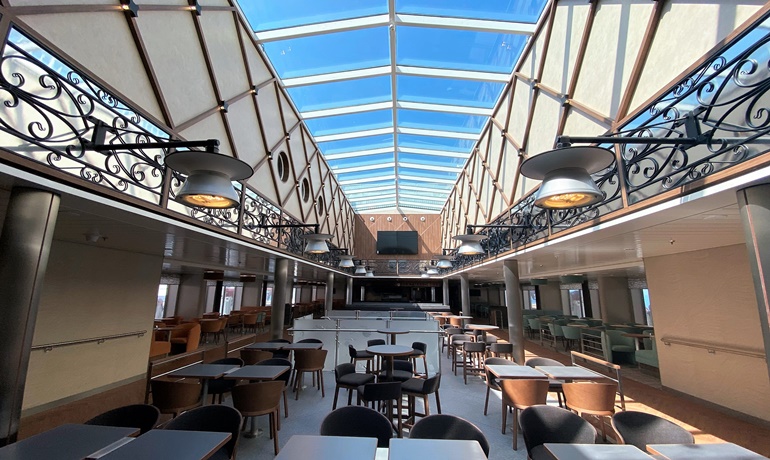 The Plaza Mayor main bar with skylight midships on Deck 8. © CMI Jinling Weihai Shipyard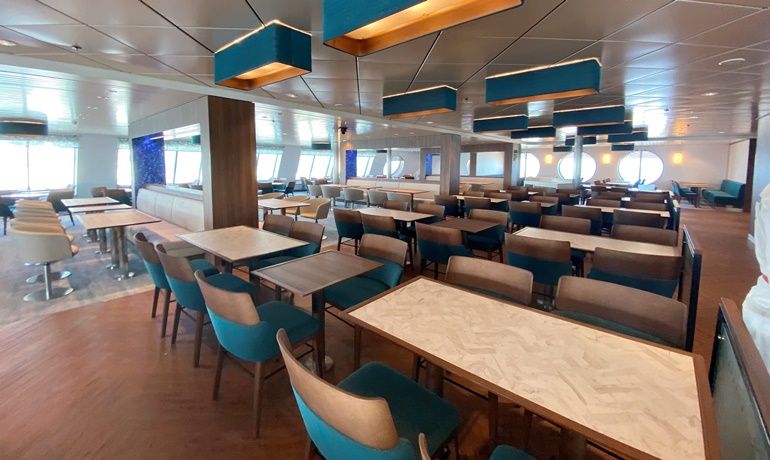 The main restaurant Azul forward on Deck 7. © CMI Jinling Weihai Shipyard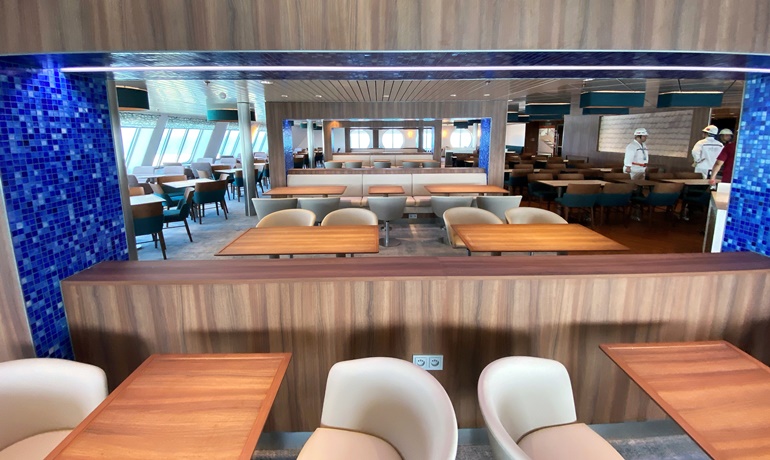 Another view of Azul - the interior was designed by Figura. © CMI Jinling Weihai Shipyard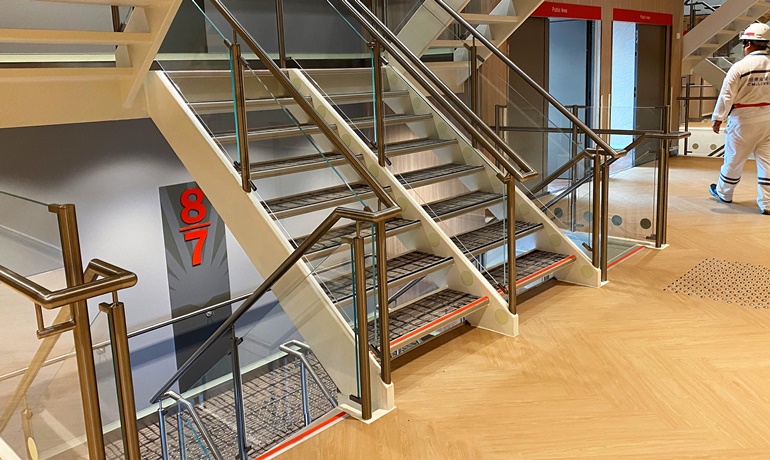 The main stairway that separates the public spaces from the cabin accommodation aft. © CMI Jinling Weihai Shipyard
---
Most read
Press Releases
Sep 17 2021
Naviera Armas Trasmediterránea introduces cold ir...
---
Sep 16 2021
Wasaline develops package travels
---
Sep 15 2021
bp and NYK Line join forces to help decarbonise h...
---
See all press releases
Products