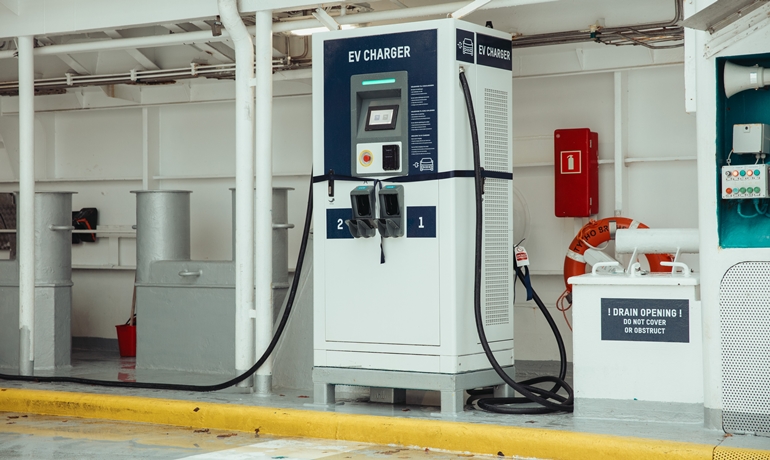 Electric car charging now available on Öresundslinjen ferries
FerryAs a world's first, powerful electric car charging will now be available on board Öresundslinjen's two ferries TYCHO BRAHE and AURORA between Helsingborg and Helsingør. Four chargers with space for eight cars on each departure are installed on each of the electric ferries. This means that up to 260,000 electric cars can be charged annually on the frequent route across the Øresund.
"The proportion of electric cars is increasing all the time, and the more cars that hit the roads, the greater the need for fast and flexible charging. Here you can combine a break from the drive with fresh energy and an extra 250 kilometres in your electric car", explains Molslinjen's managing director, Kristian Durhuus
"Because the charger is so powerful, the electric car owner can save a whole hour by spending 20 minutes on the ferry. In addition to shorter charging time, driving time and kilometres over the bridge are saved, and then no time has to be spent looking for a charger that may already be occupied by someone else", says Kristian Durhuus.
Booking a space for an electric car on the two ferries does not cost extra in addition to a ticket – the travellers only pay for the electricity consumption on the ferry trip.
© Shippax 
---
Most read

The second of P&O Ferries two new double-ended giants for its Dover-Calais service has been delivered
Nov 29 2023
Seizure of the GALAXY LEADER PCTC chartered by NYK
Nov 21 2023
Products