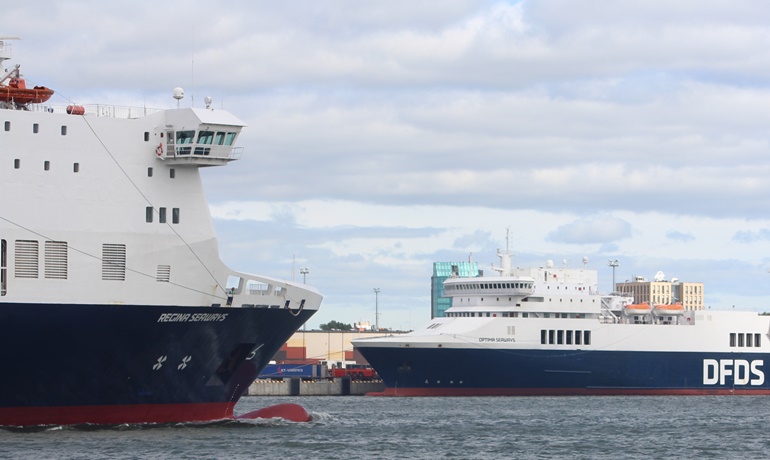 Given the 24-hour crossing times, it seems likely that DFDS will introduce Visentini Class tonnage to operate its new six times weekly Dunkerque-Rosslare route. © Kai Ortel
DFDS to start six times weekly Dunkerque-Rosslare service in January
FerryDFDS hasn't awaited the outcome of the Brexit negotiations to announce the start of a new six times weekly service linking its existing Dunkerque hub in France with Rosslare in Ireland. "Whether or not there will be a trading agreement between the EU and the UK, this new route is there to stay," a DFDS spokesperson told Shippax.
More details are expected to be announced later, but DFDS said that the new direct service, bypassing a land bridge, would target the freight market with crossing times of 24 hours. DFDS couldn't give any details about the three ships that would operate the route, but said it would be ro-pax tonnage with a capacity of 125 lorries and drivers having their individual cabin. "Tonnage might be sourced from the charter market, but we could also use one or more of our own ships for this new route," a DFDS spokesperson said. Another possibility is that Visentini Class ships currently operating in the Baltic will be transferred to the new route with their place being taken by chartered-in tonnage. "All scenarios are on the table," DFDS told us, "ship names will be announced at a later date."
The new direct France-Ireland route, which will start on 2 January, will offer shippers the possibility to transport their goods directly to or from other EU countries without customs formalities, additional costs and possible waiting times.
"For the vast Irish export to continental Europe – e.g. the agri export worth EUR 5 billion per year together with other high-value and time-sensitive commodities – the direct sea link will reduce the dependency on the UK land bridge and subsequent border crossings," Peder Gellert, EVP and Head of DFDS's Ferry Division commented on DFDS's latest initiative.
The new route is jointly owned by DFDS and Irish interests. It is expected to reach revenues above DKK 300 million in 2022 and will initially not target passengers, although a passenger offering may be marketed at a later stage.
© Shippax / Philippe Holthof
---
Most read
Press Releases
Dec 03 2021
Construction begins of Silversea Cruises SILVER NOVA
---
Dec 03 2021
Contract awarded for piers upgrade for new Islay ...
---
Dec 03 2021
Zinus technology selected for two more norwegian ...
---
See all press releases
Products