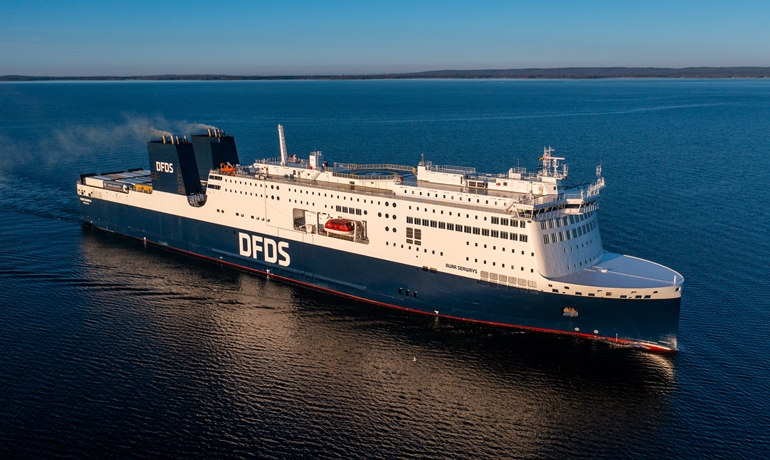 AURA SEAWAYS © George Giannakis
DFDS Q3 2023 interim report and October volumes
FinanceDFDS Q3 2023 revenue decreased 1.8% to DKK 7.2bn but increased 6.7% adjusted for ferry bunker surcharges. The adjusted growth was driven by higher ferry revenue and revenue from logistics acquisitions. The Q3 EBITDA of DKK 1,592m was on level with Q3 2022.
The freight ferry EBITDA of DKK 535m was 26% lower than last year due to a spike in oil price spreads in Q3 2022. Underlying freight ferry earnings were on level with 2022 despite lower volumes. The Q3 passenger EBITDA increased 29% to DKK 758m as results improved across the route network. Logistics Division's EBITDA increased 8% to DKK 319m driven by acquisitions while underlying performance was below last year due to lower activity levels and one-off costs.
Year-to-date (Q1-3) revenue increased 1% to DKK 20.5bn compared to the same period last year and Q1-3 EBITDA increased 3% to DKK 4,004m. EBITDA was DKK 5,092m for the last twelve months (LTM, 2022-23).
The Q3 adjusted free cash flow was DKK 503m and DKK 1.69bn for LTM. Net interest-bearing debt (NIBD) was reduced 1% from Q2 2023 on the back of the positive cash flow.
Outlook 2023
The EBITDA outlook is firmed up to DKK 4.9-5.2bn (previously DKK 4.8-5.2bn) as Q3 financial performance was ahead of expectations. The investment outlook, excluding acquisitions, was reduced to DKK 0.1bn (previously DKK 1.6bn) following the sale and leaseback of three ferries announced in October 2023.
Ferry – freight: Total volumes in October 2023 were 1.4% below 2022.
North Sea volumes were just below 2022 as robust automotive volumes were offset by lower volumes between primarily Sweden and the UK.
Mediterranean volumes were below 2022 as demand currently is stagnating in both Europe and Türkiye.
Channel volumes were above 2022 driven by the Dover Strait routes. Baltic Sea volumes were below 2022 due to lower activity levels, not least in the Swedish construction sector, and a continued negative impact from the war in Ukraine.
For the last twelve months 2023-22, the total transported freight lane metres decreased 9.9% to 38.6m from 42.8m in 2022-21.
Ferry – passenger: The number of passengers increased 4.0% driven by more Channel passengers. The number of cars increased 1.6%.
The total number of passengers increased 29% to 4.5m for the last twelve months, 2023-22, from 3.5m in 2022-21.
DFDS ferry volumes

 

 

 

 

 

 

 

 

 

October

 

LTM*

Freight

2021

2022

2023

Change

 

2021-20

2022-21

2023-22

Change

Lane metres, '000

3,825

3,481

3,433

-1.4%

 

43,508

42,784

38,556

-9.9%

 

 

 

 

 

 

 

 

 

 

Passenger

2021

2022

2023

Change

 

2021-20

2022-21

2023-22

Change

Passengers, '000

122

330

344

4.0%

 

824

3,451

4,469

29.5%

*Last twelve months

 

 

 

 

 

 

 

 

 
Full report here https://www.dfds.com/en/about/investors/reports-and-presentations/q3-report-2023
© Shippax
---
Most read

The second of P&O Ferries two new double-ended giants for its Dover-Calais service has been delivered
Nov 29 2023
Seizure of the GALAXY LEADER PCTC chartered by NYK
Nov 21 2023
Products