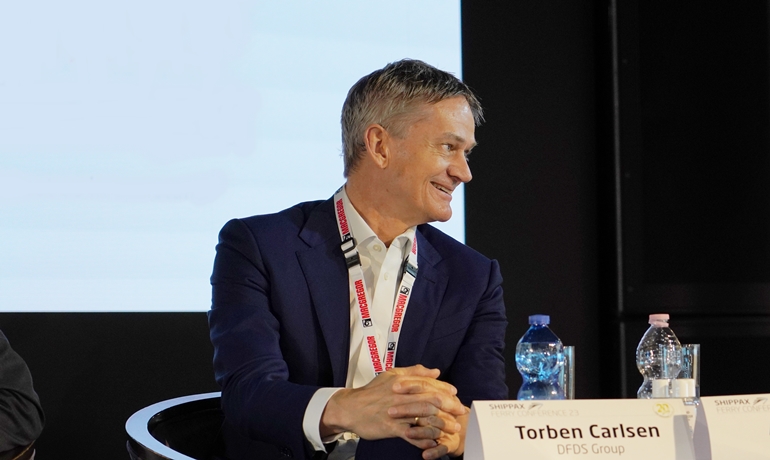 DFDS Group CEO Torben Carlsen at this year's Shippax Ferry Conference © Shippax
DFDS Q1 2023 financials and April volumes released
FinanceDFDS reported Q1 revenue up with 9% to DKK 6.3bn and EBITDA up 23% to DKK 1.0bn. Passenger numbers continued to increase, while a slowdown in freight was seen.
Outlook 2023, unchanged
• EBITDA of DKK 4.5-5.0bn
• Revenue at same level as 2022
• Investments of DKK 1.6bn
Full report https://assets.ctfassets.net/mivicpf5zews/5PwsML9wwWSf2HjSoEee4M/9b5dd1f3bbe2fd5f670c5b359b09c17d/DFDS_NO_20_11_05_2023_Q1_REPORT.pdf
Ferry – freight: Total volumes in April 2023 were 18.7% below 2022. Volumes were 7.7% below 2022 adjusted for Channel that is impacted by a general market decrease and overcapacity.
North Sea volumes were below last year due to lower volumes between mainly the Netherlands and the UK following a continued drop in Continental vegetable and fruit export to the UK. Mediterranean volumes were just below last year adjusted for route changes due to congestion in the port of Mersin following the earthquake in February 2023 and some slowdown in activity ahead of the upcoming election.
Channel volumes were significantly below last year due to a continued market decrease, suspension of sailings by an operator throughout April 2022, and a negative impact from the entry of a third ferry operator. Baltic Sea volumes remained negatively impacted by the war in Ukraine.
For the last twelve months 2023-22, the total transported freight lane metres decreased 8.0% to 40.1m from 43.6m in 2022-21. The decrease was 3.5% adjusted for Channel.
Ferry – passenger: The number of passengers continued to recover and increased 22.3% to 406,000 equal to 84% of volumes in April 2019, the latest comparable month pre-Covid-19. The number of cars equalled 79% of volumes in 2019.
For the last twelve months 2023-22, the total number of passengers was 4.2m compared to 1.4m in 2022-21 and 5.1m in 2019.
DFDS ferry volumes

 

 

 

 

 

 

 

 

 

April

 

LTM*

Freight

2021

2022

2023

Change

 

2021-20

2022-21

2023-22

Change

Lane metres, '000

3,588

3,785

3,077

-18.7%

 

42,255

43,581

40,074

-8.0%

 

 

 

 

 

 

 

 

 

 

Passenger

2021

2022

2023

Change

 

2021-20

2022-21

2023-22

Change

Passengers, '000

29

332

406

22.3%

 

1,002

1,371

4,183

205.1%

*Last twelve months  

 

 

 

 

 

 

 
---