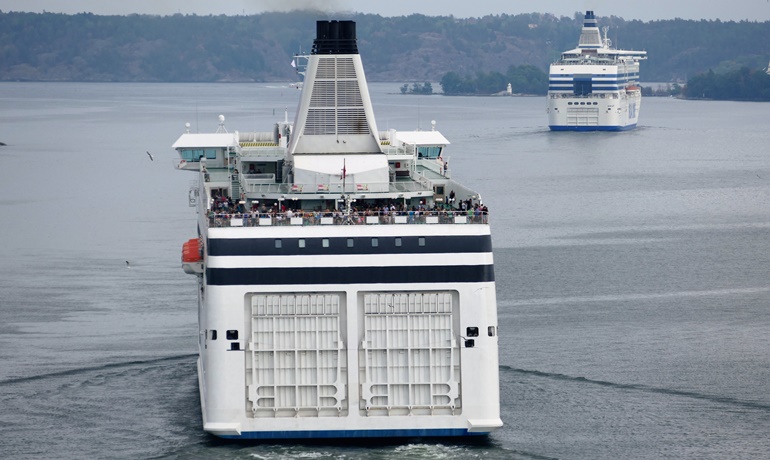 ROMANTIKA is currently making a Riga-Sassnitz emergency crossing. SILJA SERENADE will be laid up in Helsinki on 19 March. © Kai Ortel
COVID-19 ferry update – Tuesday 17 March
FerryThe list of ro-pax ferries to be laid up in the wake of the COVID-19 pandemic continues to swell. Many of the ro-paxes that remain in service carry freight only as more countries are closing their borders for passengers. The few passengers travelling on certain routes are those who are returning home.


Update 17 March:
- Tallink Grupp will cease operations between Stockholm-Mariehamn-Helsinki operated by SILJA SERENADE and SILJA SYMPHONY which will be laid up in Helsinki and Stockholm, respectively, on 19 March when Finland will close its borders until 13 April.
- The closure of the Finnish borders means that Finnlines will carry freight only on its ro-pax ferries – Viking Line will sideline its Stockholm-Mariehamn-Helsinki cruise ferries MARIELLA and GABRIELLA on 18 March. Viking Line's Mariehamn-Kapellskär route, operated by ROSELLA, has already been discontinued.
- Tallink's ROMANTIKA has been chartered to make an evacuation trip to Sassnitz in order to bring back people trapped in Estonia due to closing of the borders. ROMANTIKA left Riga for Sassnitz in the evening of 17 March, carrying goods and Germans trapped in Latvia who wished to get home. In the late evening of 18 March, ROMANTIKA will return from Sassnitz to take Estonians and Latvians with their cars to Ventspils. Tallink's CEO Paavo Nõgene said negotiations were ongoing to operate ROMANTIKA between Ventspils and Sassnitz in a freight-only role, avoiding the borders of Lithuania and Poland.
- Polferries' BALTIVIA will make an emergency crossing from Sassnitz to Klaipeda to enable 250 passengers and their cars to return home. It is understood that the passengers will be nationals of all three Baltic states.
- The Danish crew of Fjord Line's OSLOFJORD, laid up in Sandefjord, Norway, remain trapped on board as they are not allowed to disembark. The ship cannot dock in Hirtshals as there is no berthing capacity. One of the possibilities is to shuttle the crew with a hermetically sealed bus to Hirtshals via Kristiansand.
- The ever-changing Coronavirus situation and the lockdown in France has led to another change to Brittany Ferries' passenger and freight services: the Ouistreham (Caen)-Portsmouth ro-pax NORMANDIE will be sidelined from 19 March until 9 April – the route will continue to be operated by MONT ST. MICHEL in freight-only mode; CAP FINISTERE becomes the sole ship to operate Portsmouth-Spain, albeit in freight-only mode as from 22 March; on 20 March CONNEMARA will switch to Cherbourg-Portsmouth rather than the longer Le Havre-Portsmouth route, carrying freight only.
- The Spanish enclaves of Ceuta and Melilla have banned all passenger movements to and from the Spanish peninsula for at least the next two weeks, with effect today, 17 March. This ban includes both flights and ferries. Freight movements will continue, with dedicated ro-ro services between Algeciras and Ceuta, and a combination of ro-ro and freight-only ferry services to Melilla.
- The Balearic Islands have similarly introduced a ban on all passenger movements to the Spanish mainland. This includes the routes linking Barcelona, Valencia and Denia with the ports of Alcudia, Palma de Mallorca, Ibiza, Mahon and Ciutadella in the Islands, with services in the hands of Baleària and Trasmediterránea. Inter-island routes will be curtailed to a bare minimum. Routes from France have also been cancelled until further notice. Freight movements are not affected.
- Algeria has stopped passenger services between Spain and Algerian ports, affecting mainly Almeria to Ghazaouet and Oran (Trasmediterránea) and Valencia to Mostaganem (Baleària). Again, freight movements are not included in the ban.
- Services to the Canary Islands are being studied at present, with a similar ban expected.
© Shippax / PHO / MBA / MST
---
Most read
Press Releases
Mar 31 2020
Ferguson selects ICE for Design of Scottish RoPax...
---
Mar 31 2020
Made-to-Measure Incat Crowther Ro-Pax Ferry for B...
---
Mar 31 2020
Carnival Maritime utilizes the potential of mathe...
---
See all press releases
Products