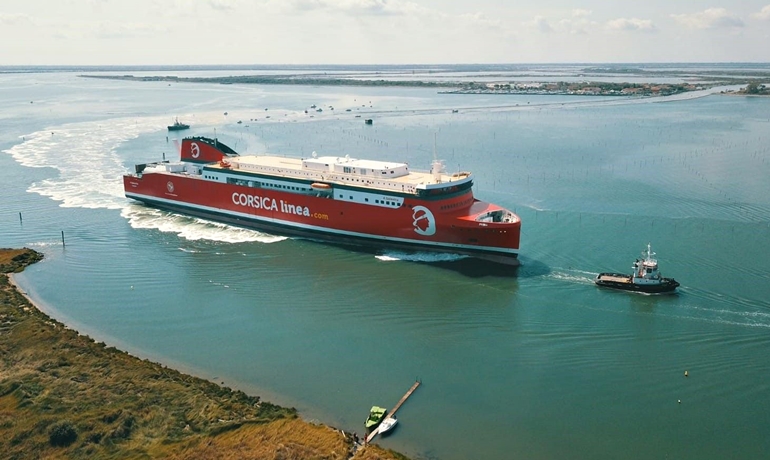 A GALEOTTA is due for delivery in October © Corsica Linea
Corsica Linea's A GALEOTTA out on sea trials
FerryCorsica Linea's next fleet addition, the LNG-powered A GALEOTTA left the Visentini shipyard to conduct sea trials ahead of its planned delivery in October this year.
Designed by NAOS Ship & Boat Design, the vessel will become Corsica Linea's new flagship when she enters service on the company's Marseille to Ajaccio/Bastia route.
Yard No. 238 at Visentini measures 206.6m length o.a., 28.2m beam and has a full load draught of 6.7m. Although the new design can carry a total of 920 persons, Corsica Linea has restricted passenger capacity on this vessel to 650 persons, with 216 cabins providing berths for 870 passengers.
The next generation Visentini-class design vessel is stern loading and discharge only, although is future-proofed for conversion to a drive-through vessel at a later date.
Although the original design provides for a freight capacity of 2,750 lanemetres, the French operator's decision to go for LNG propulsion has reduced A GALEOTTA'S capacity to 2,563 lanemetres over three decks. This is due to the fact that two 260m3 Type C LNG on deck tanks have been installed on the vessel's upper vehicle deck aft, thereby reducing freight capacity somewhat.
A GALEOTTA also features separate car decks and can carry 90 cars on Deck 1 and a further 59 cars on Deck 4.
Propulsion for the new Corsica Linea ro-pax will come from two Wärtsilä 12V50DF main engines, each developing 11,700 kW and providing a service speed of 23 knots. The design also features a new, more efficient, bow design – the FlexBow 2.0 and is fully Safe Return to Port (SRtP) compliant.
A GALEOTTA has been built with finance provided by Groupe Crédit Agricole.    
© Shippax
---
Most read
Press Releases
Oct 07 2022
Cruise Baltic makes it easier to choose onshore p...
---
Oct 07 2022
Wärtsilä to provide Latvian company with biogas u...
---
Oct 07 2022
ABB and Incat sign LOI to develop lightweight hyb...
---
See all press releases
Products