CoCo Yachts announced the sale of two 1,000 passenger double ended ferries to Sun Ferries in Hong Kong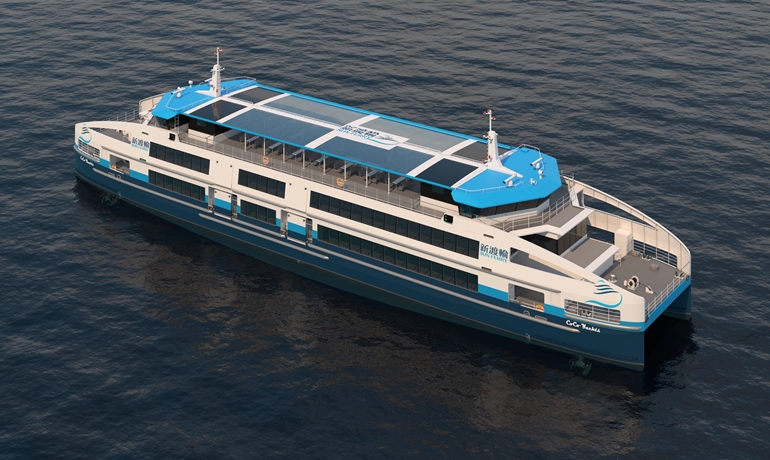 CoCo Yachts Urban Sprinter 1,000
CoCo Yachts announced the sale of two 1,000 passenger double ended ferries to Sun Ferries in Hong Kong
FerryCoCo Yachts B.V. of the Netherlands announced the sale of two CoCo Yachts designed Urban Sprinters 1,000 to Hong Kong, where Sun Ferries will daily operate the ferries on the route between Central Pier and Cheung Chau pier in Hong Kong.
Both of the Urban Sprinter 1,000 will be built by YaGuang Technology Co. Ltd in Zhuhai, China, and have an aluminium hull and superstructure. Both vessels will have a battery pack for overnight energy to avoid diesel generators running.
Each vessel will be fitted with four IMO tier III diesel generators, of which normally three are in service, and one will be on standby. The service speed will be 16 knots and they will be provided with four Azimuth L-type thrusters, each fitted with one PM electric motor.
The design and building of the vessel will be surveyed and certified by Bureau Veritas. All flag related items, including safety and stability will be delegated from Hong Kong Marine Department to Bureau Veritas. Previous project with similar delegated works has proven to be an efficient and reliable working method.
Eight entrance ramps will be provided on main and upper deck. The vessels can carry 1,000 seated passengers each, divided over two enclosed decks, and has eight wheelchair positions which are located on main deck near the entrances on mid ship. A baby care room, as well as two dedicated pet areas can be found on main deck. The kiosk / information desks will be situated on main and upper deck, and a cargo bay is located on main deck near the mid ship entrance. Air conditioning will be provided on both decks.  
The third deck is an open area accessible for sightseeing purposes for passengers during voyages with fair weather. The area will be partly covered by solar panels, which will help to reduce the overall vessel emissions. 32 Seats with eight tables will be placed on the top deck.
The vessels will be fitted with three crew cabins, to fit in total 10 crew. The double ended ferry has two wheelhouses, each with four crew seats.
The well detailed and luxurious, yet functional equipped passenger accommodation on main and upper deck, as well as the low noise & vibration levels, makes it a pleasure to travel.
The first vessel is expected to be delivered Q2 2024, while the second vessel will be delivered Q1-2025.
© Shippax
---