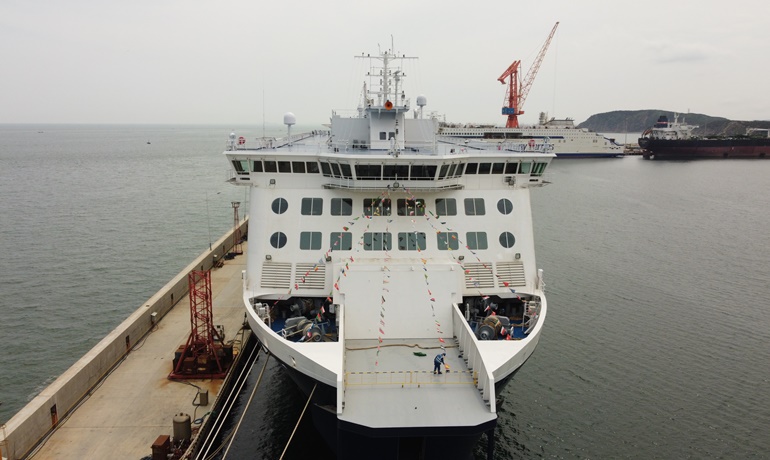 CÔTE D'OPALE is ready to leave Weihai, China for the Dover Strait. © Stena RoRo
CMI Jinling Weihai Shipyard delivers CÔTE D'OPALE six weeks ahead of schedule
FerryChina Merchants' shipyard in Weihai has delivered CÔTE D'OPALE, the fifth Stena E-Flexer which has been long-term bareboat chartered by DFDS for operation on the 22-nautical-mile Dover-Calais route – the shortest route to be served by a 'one-size-fits-all' E-Flexer.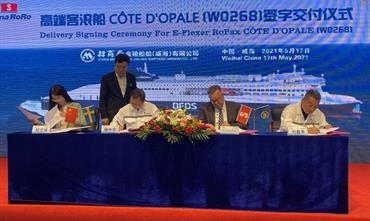 Handover ceremony of CÔTE D'OPALE on Monday 17 May. © Stena RoRo
Delivered six weeks ahead of the contractual delivery date, CÔTE D'OPALE will replace the 1992-built CALAIS SEAWAYS which will most likely be withdrawn from service. CÔTE D'OPALE has a 215.9m length and 27.8m beam with a maximum capacity of 1,000 persons, 3,100 lanemetres spread over three decks and 120 cars on a separate upper car deck, which is similar to the standard E-Flexer for Stena Line service.
In practice, CÔTE D'OPALE will not make use of the lower hold, slightly reducing the intake to 2,755 lanemetres – still a 55 per cent increase on CALAIS SEAWAYS. As the separate car deck is accessed by an internal ramp, it is expected that it will rarely be used.
The accommodation, designed by Figura, has been adapted for the high-density Dover-Calais route with a large walk-through duty-free shop, passenger cabins replaced by public spaces and dedicated facilities for commercial drivers.
To improve manoeuvrability, a third bow thruster has been installed with both the ship's bow and stern adapted to fit the linkspans in both Dover and Calais.
The next E-Flexer to be delivered is the LNG-powered SALAMANCA, to be followed by two lengthened E-Flexer Mk II Class versions for Stena Line, and SANTOÑA, a sister ship of SALAMANCA.
A second video here https://fb.watch/5znMsy3Bcb/
© Shippax / PHO
---