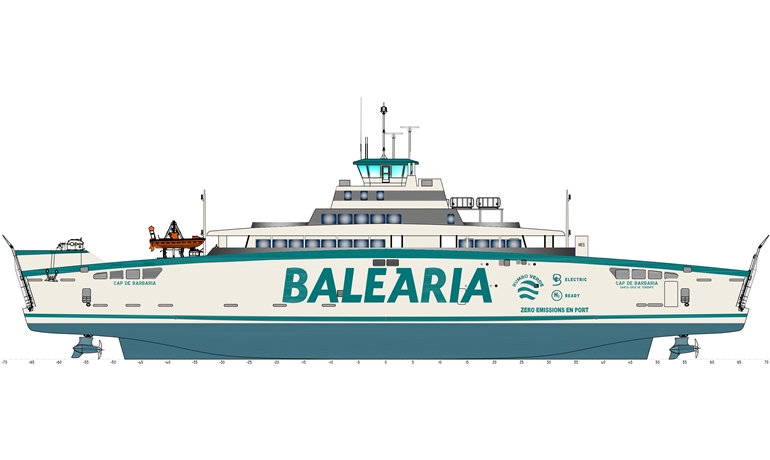 Baleària's zero emission battery hybrid double-ender named CAP DE BARBARIA
FerryCAP DE BARBARIA will the name of the zero emission battery hybrid double-ender ferry Baleària are building at Astilleros Armón for its Ibiza-Formentera route. Cape Barbaria, or Cap de Barbaria, is a cape that marks the south-western end of the island of Formentera.
The new hybrid ferry will be able to carry 350 passengers and 14 trucks and will be a zero emission vessel while entering and leaving port and manoeuvring. Delivery of the ferry is expected in time for the summer season 2023.
The 82m x 15.5m double-ender ferry will operate at a speed of up to 14 knots, enabling it to make the crossing in just one hour and will feature an onboard Test Lab, for a pilot project to examine the use of green hydrogen propulsion on a ferry, equipped with a 100 kW compressed hydrogen fuel cell, the largest currently in existence.
Baleària participates in the European Green Hystland Project, who's objective is to turn the island of Mallorca into the first green hydrogen hub in southwest Europe.
From a passenger-carrying perspective the Vigo newbuilding is aimed mainly for passengers travelling during the spring and summer months, with mainly outside passenger areas, featuring a number of terraces, a large bar with DJ area and passenger showers.
Design of the new ferry is being undertaken by Spain's Oliver Design.
© Shippax / MH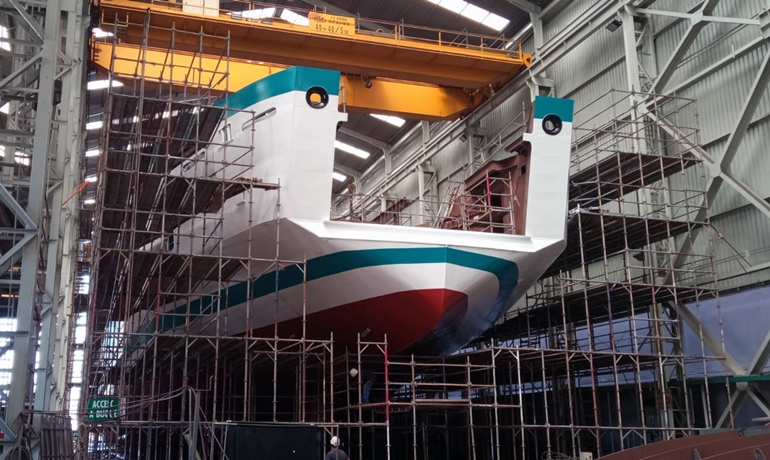 ---
Most read
Press Releases
Oct 07 2022
ABB and Incat sign LOI to develop lightweight hyb...
---
Oct 07 2022
Höegh Autoliners offers customers carbon neutral ...
---
Oct 07 2022
Höegh Autoliners joins First Movers Coalition and...
---
See all press releases
Products