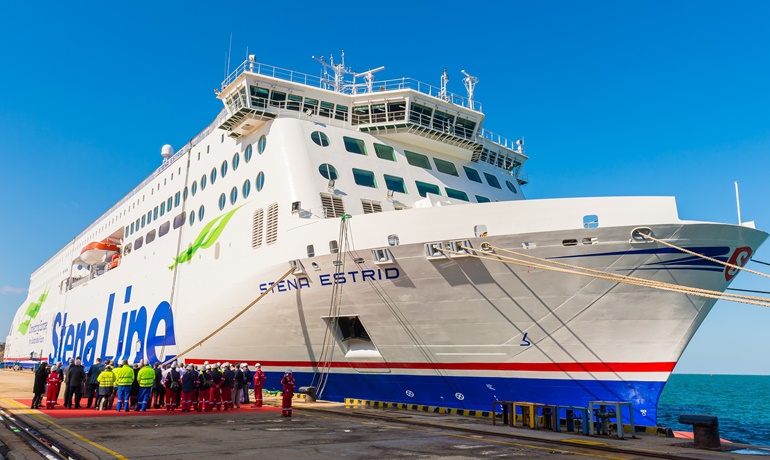 STENA ESTRID has been delivered on-time by its Chinese builders © Stena Line
AVIC Weihai Shipyard delivers first Stena E-Flexer
FerryThe AVIC Weihai Shipyard, part of China Merchants, has officially delivered STENA ESTRID to Stena Line. STENA ESTRID is the first in a series of nine E-Flexers that represent six different designs with Stena RoRo holding an option for two more vessels of the same class.
The 214.5m long and 27.8m beam STENA ESTRID, which has a capacity of 3,100 lanemetres, 120 cars on a separate car deck and 1,000 persons (passengers and crew), is now ready for her six-week-long voyage to the Irish Sea where she will replace STENA SUPERFAST X on the Holyhead-Dublin route, joining the 3,517-lanemetre and 1,500-passenger STENA ADVENTURER.
The ceremony for the delivery of STENA ESTRID took place earlier this week in attendance of the Stena Line top management, including owner Dan Sten Olsson and the Reverend Stephen Miller of the Mission to Seafarers who undertook the blessing of the ship, in order to bring it good luck at sea.
Stena Line will introduce four more E-Flexers, two of which – STENA EDDA and STENA EMBLA – will be introduced between Birkenhead (Liverpool) and Belfast in spring 2020 and early 2021, respectively, replacing STENA LAGAN and STENA MERSEY which will be lengthened at Sedef Shipbuilding in Turkey.
In 2022 Stena Line will take delivery of two lengthened versions which will likely be introduced on one of Stena Line's Scandinavian/Baltic Sea routes. The remaining four E-Flexers on order or in different construction stages will be long-term chartered by Brittany Ferries (three ships, two of which LNG-powered) and DFDS for Calais-Dover service.
Following the hand-over of STENA ESTRID, Stena Line CEO Niclas Mårtensson said that its delivery marked the start of a very important few months for Stena Line's Irish Sea operations. "Taking ownership of STENA ESTRID is a major milestone for Stena Line and is the result of a very significant investment in our Irish Sea operations that reflects our commitment to the region and will ultimately see three of the world's most modern ferries operating between Ireland and Britain," Niclas Mårtensson said.
In March this year Shippax made a special report about the Stena E-Flexer Class in our monthly magazine, ShippaxInfo. With today's delivery of STENA ESTRID we happily make this issue available for everyone. You can find this issue on the link below. Enjoy the reading! https://www.shippax.com/en/publications/latest-shippax-cfi-online.aspx
© Shippax / PHO / PR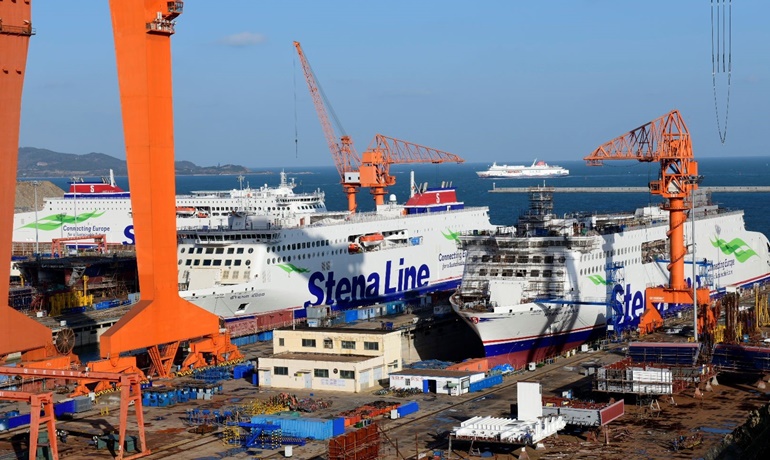 Four ro-pax ferries built by AVIC Weihai Shipyard - left to right: STENA ESTRID, STENA EDDA and STENA EMBLA. In the background is the 2018-built NEW GRAND PEACE, the first ever ro-pax built by the yard. © AVIC Ship
---
Most read
Press Releases
Dec 03 2021
Construction begins of Silversea Cruises SILVER NOVA
---
Dec 03 2021
Contract awarded for piers upgrade for new Islay ...
---
Dec 03 2021
Zinus technology selected for two more norwegian ...
---
See all press releases
Products