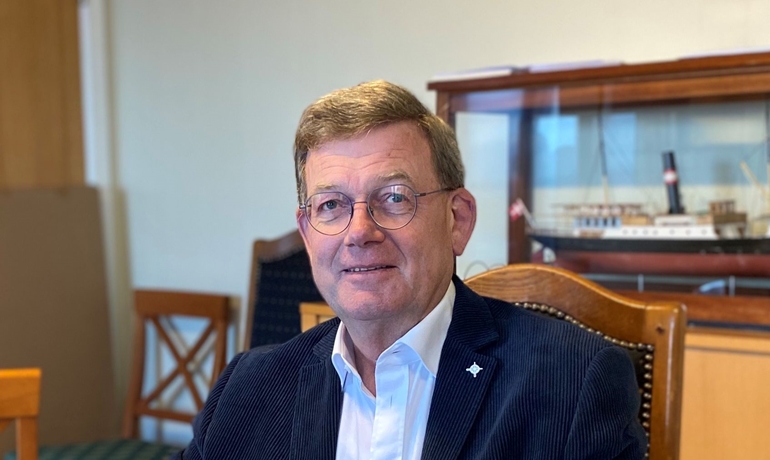 Boye Kromann © ÆrøXpressen
ÆRØXPRESSEN A/S – A NEW FERRY COMPANY REVIVING AN OLD ROUTE
InterviewThe small Danish island of Ærø recently attracted the attention of the ferry industry by becoming the testing ground of the country's first full-electric ferry, the 2019-built, 198-passenger e-ferry ELLEN, owned and operated by Ærøfærgerne. Another event on the island, the launch of a new ferry company, ÆrøXpressen A/S, which restarted an old route with the 196-passenger newbuild, the hybrid ÆRØXPRESSEN, did not escape notice either.
With this purpose-built vessel, ÆrøXpressen A/S re-started a 150-year-old historic route that connected the islands of Ærø and Langeland, between the ports of Marstal and Rudkøbing, which had been controversially discontinued in 2013. The new company and route revival were the products of an initiative by the Ærø islanders who needed a reliable and viable maritime connection with their neighbours and, perhaps more than anything else, resented the previous decision to dsevere this historic link.
In its brief existence, the new company, with its new ship and new operation, in many respects, has proven to be providing a functional and successful domestic ferry service. It has not only injected vitality into the economic life of the small islands the it connects, but also offers a conscionable choice to the travelling public. Operating a green vessel, with the islanders as its main shareholders, ÆrøXpressen A/S is emblematic of a modernised domestic ferry service, a swaggering model for the rest of Europe to follow and emulate. 
Director Boye Kromann, speaking on behalf of the board, recently shared his vision and experience with Shippax in a focused Q&A dialogue.
Who are you and what are your backgrounds prior to starting ÆrøXpressen A/S?
The board consists of six members. All of us have maritime backgrounds. The membership includes a former harbour master, a director of the navigation school at Marstal, a captain, an engineer, and, like myself, all with extensive experiences in shipping, both coastal and deep-sea.
When and how was the ÆRØXPRESSEN project started?
It started when the previous Marstal-Rudkøbing service was stopped back in 2013. The ship, MARSTAL, now serves from another part of the island, on the route between Ærøskøbing and Svendborg. We, the inhabitants of the eastern part of the island, were not happy with the new situation. You have to remember that there had been a ferry service from Marstal for more than 150 years. We felt that we lost something which was very important to us.
More than 50 per cent of the population of this island lives in Marstal. Following the suspension of ferry service, we immediately observed a drop in social and economic activities in our town, in its shops and restaurants, etc.
In the beginning, in an effort to re-establish the service, some of us tried to purchase a small second-hand ferry, and others tried other solutions; none of the initiatives had succeeded until a corporation was formed in December 2016. From them on we started the actual process by finding the ideal type of ferry, advertising for shareholders, and so on.
Ærø was already served by many ferries on three links: the western Fynshav-Søby route, the northern Faaborg-Søby connection, and the central Ærøskøbing-Svendborg corridor. What was the valid argument to restart the eastern Marstal-Rudkøbing route on such a small island?
It was not just a matter of some people feeling their needs being overlooked by the island council, there was a real demand for more capacity for the island of Ærø. In recent years, there had been a big rise in traffic volumes in other Danish islands, such as Samsø and Læsø. This did not happen in Ærø, simply because we did not have the required capacity. It is not a question of number of ferries or routes, but it is about having the capacity in place to meet the potential demand – the rising number of passengers.
How did you proceed to make the initial idea into a reality? How much money was needed?
We established a joint-stock company with deposits from people we knew were interested in this project and from the board members. We soon found ourselves in a position where we could talk to shipyards and lenders.
An amount of approximately DKK 50 million was needed to build a new ferry. At a certain stage, we contacted Denmark's Green Investment Fund, which was a part of the Danish Growth Fund. We were able to obtain a loan for a part of the sum needed, on conditions that we would build a green ferry, that we could secure a loan from a bank for a similar amount, and that we could come up with the remaining balance through share subscription. We then started the subscription campaign, with the lowest value set at of DKK 1,000.
How many shareholders do you have? Who are they?
Today there are about 1,900 shareholders in ÆrøXpressen A/S. Apart from a large number of local shareholders and those from all parts of Denmark, we have shareholders from 13 different countries. Some of them are shipping people who had links with the old Marstal shipping scene.
Your ship ÆRØXPRESSEN was delivered by the Hvide Sande shipyard last year. The vessel has a capacity for 196 passengers and up to 32 cars (or a two-trucks-16-cars combination). What were the bases for the vessel specifications?
We were faced with shallow drafts around both islands. This was another reason why one large ferry wouldn't be suitable here. We need more vessels, smaller ones.
Working with consultants, we found out that a vessel with a length of about 50 metres and a draft of about two metres would be ideal to achieve a transit time of 50 minutes, which was considerably faster than the 75 minutes it took for ferries to cross from Ærøskøbing to Svendborg.
Does ÆrøXpressen A/S rely on subsidies in any way?
No, we do not rely on subsidies. The future of ÆrøXpressen A/S will depend on the number of customers we serve. In the spring, because of the COVID-19 impact, we applied for support from the Danish government, like all other companies. The sum we had asked for was fairly small. So far, the approval has not been granted, but we are not depending on this.
What has been the feedback on the vessel from local communities so far?
The municipal council is divided in this issue, because we are a competitor to the publicly owned and operated ferries serving our island. It would not be possible to carry all the visitors and locals to and from Ærø had there not been ÆRØXPRESSEN. We bring in more visitors, more businesses, and much more incomes to our island. I truly believe that this is obvious to all of us and that both our company and our ship will be well respected in the future.
We see more restaurants and bars popping up near the ferry terminal in Marstal. Indeed, the ferry has boosted the social life for our many retired sailors and shipping business-related people who live in and around Marstal.                                     
Operation management has been outsourced to the Flensburg-based FRS. Can you explain the rationale behind this choice?
At an earlier stage, we had negotiated potential commercial management of our operation with Danske Færger. But because the company was being sold to Molslinjen toward the end of our negotiations, we had to look for other options. Förde Reederei Seetouristik (FRS) had a fine reputation in Germany, Denmark, and elsewhere. It was a very experienced ferry company. So, it was a natural and an easy choice for us to make. We soon reached a cooperation agreement with them.
The Marstal-Rudkøbing route is the shortest link to the mainland, via Langeland. Do you attract customers from Søby and Ærøskøbing areas because of the shorter transit time? How do you position yourselves in the market compared to other ferry services to and from Ærø?
Yes, we are the fastest link between Ærø and the mainland and of course we have customers from all over the island. Some islanders are very particular about the ferry companies they choose to use, but most of us use ferries that suit us best. I am also a customer of our competitors from time to time.
In September, you welcomed your 100,000th passenger. What was the initially forecasted number in the business plan? Has your operation been a success so far?
As in the case of everyone else, COVID-19 was a disaster for us. There was no doubt that everything would have been better without this pandemic. In spite of the supports offered to the passengers in the form of free tickets in July, August, and September, the costs of which were covered by the government, we would still be much better off without this crisis. Having said that, our earnings so far are not far from the forecast. We meet a demand for capacity and we provide a fast and reliable transport service to and from our island. We are very confident about the future for our company.
2020 must be a challenging year to start a new ferry operation. How did you survive the difficult months of March, April, and May?
We only came through thanks to the understanding and support of our lenders. We've been able to pay back the additional borrowing for our extra liquidity need during these three months.
Have you benefited from the 'staycation' phenomenon this summer?
Yes, our island has received many more visitors than during other, more normal summer seasons, because many people are scared of travelling abroad and also because the travel restrictions imposed by the government.
Can ÆRØXPRESSEN become a truly zero-emission vessel at a later stage? Has she been designed with this in mind?
Our intention, and according to the agreement with Denmark's Green Investment Fund, is to increase the use of electric power on board as soon as the technology and the costs make it possible. In the coming years, and we don't know exactly when, the diesel engines will be replaced by more batteries. Eventually the ferry will become a truly zero-emission vessel. The electricity used on board is generated from wind power.
---
Most read
Press Releases
May 13 2022
Carnival Cruise Line breaks ground on new cruise ...
---
May 13 2022
MacGregor has received an order to supply RoRo eq...
---
May 11 2022
DFDS: April volume report: Freight Up 5%, Continu...
---
See all press releases
Products