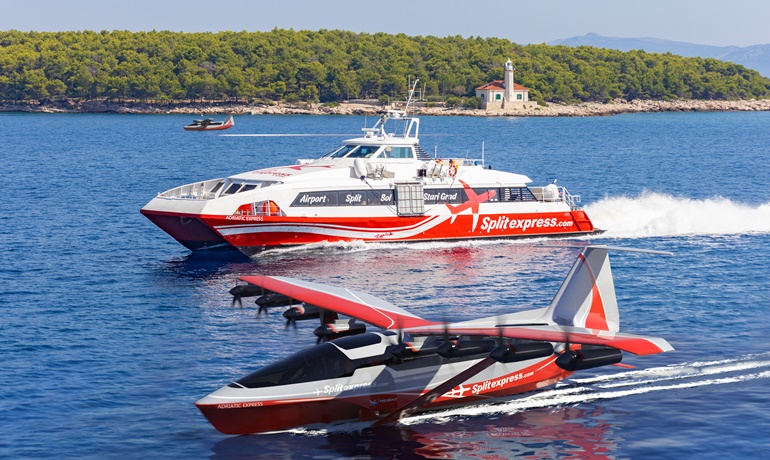 A full-electric, zero-emission Seaglider for Split Express could be reality in four years' time. © REGENT
Adriatic Fast Ferries signs LOI with REGENT for zero-emission seaglider
High-speedAbout two months after French ferry operator Brittany Ferries announced its intention to introduce full-electric 'seaglider' passenger-only craft on the Western Channel, Adriatic Fast Ferries revealed to Shippax it had signed a Letter of Intent (LOI) with US-based start-up Regional Electric Ground Effect Nautical Transport (REGENT) to design and build similar craft for the company's Split Express service, linking Split Airport with the nearby archipelago.
According to REGENT, Adriatic Fast Ferries signed an LOI for multiple seagliders, an all-electric wing-in-ground effect vehicle (WIG) that effectively foils like a hydrofoil and flies like a plane, offering the comfort of hydrofoils and the aerodynamic efficiency of hovercraft at speeds of up to 300 km/h. "We are delighted to welcome Adriatic Fast Ferries as a new REGENT customer," said Billy Thalheimer, CEO of REGENT. "This commitment from Adriatic Fast Ferries highlights their unwavering commitment to providing their customers with innovative high-speed sustainable travel. We are encouraged by the continued growth in our global customer base."
Split Express CEO Dr. Alan Klanac, a naval architect and assistant professor of ship structures design at University of Rijeka, told Shippax that he absolutely believed in the concept. "This is not yet another foolish non-project," he said, adding, "The people behind REGENT are serious and professional people with an aeronautical background. To the non-believers, I can say that this is no utopia as I'm convinced it will become reality in a few years' time."
With current battery technology, the first-generation seagliders will be able to move 12 passengers over a distance of 300 km on a single charge. Split Express, which operates the 173-seat FBM Marine 33m passenger-only catamaran ADRIATIC EXPRESS on a seasonal service linking Split Airport with Split Town, Bol (Brac), and Stari Grad (Hvar), plans to introduce its first Seaglider by 2025, reducing the Split-Hvar crossing from about 2 hours and 10 minutes to under 20 minutes.
Alan Klanac, who will join REGENT as a member of its advisory board, said that seagliders were the future of passenger-only ferries, adding: "The ferry industry is at the crux of the Green Revolution and an ever-increasing pressure for faster transit from competitive modes. The need for innovation has never been higher. Split Express is excited to be a world-leader in zero-emission, high-speed maritime transport as an early adopter of REGENT's seagliders."
Billy Thalheimer, for his part, said that he was very pleased that Alan had agreed to serve as a member of REGENT's advisory board. "His experience with all modes of shipping and maritime transportation will be invaluable as we introduce the Seaglider into commercial service and develop a family of Seagliders with increased range and payload capabilities," he commented.
Combining hydrofoil with airplane technology, seagliders begin their journey from a conventional ferry terminal and, once clear of no-wake zones, rise onto their hydrofoils to manoeuvre through crowded harbours. Upon reaching open sea, it takes-off into 'ground effect', an aerodynamic state similar to hovercraft operation where high-pressure air trapped between the wing and the water increases flight efficiency. Once airborne and reaching speeds of 300 km/h it will always stay within 10m of the water surface.
REGENT's seagliders are scheduled to be available for commercial use in 2025. REGENT is already developing plans to build larger seagliders that will accommodate more passengers and service longer routes with advanced battery technology.
© Shippax / PHO
---
Most read
Press Releases
Sep 17 2021
Naviera Armas Trasmediterránea introduces cold ir...
---
Sep 16 2021
Wasaline develops package travels
---
Sep 15 2021
bp and NYK Line join forces to help decarbonise h...
---
See all press releases
Products