A dining concept for Finnlines' new ships: "Each portion of food must have a story behind it"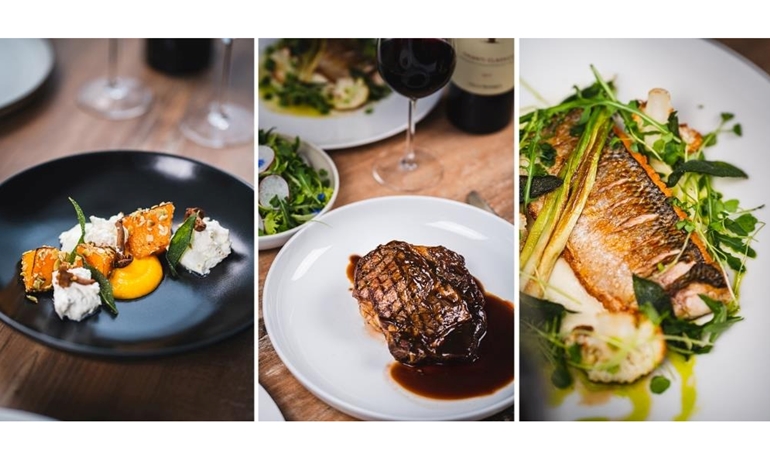 A dining concept for Finnlines' new ships: "Each portion of food must have a story behind it"
Locally, in the Archipelago, grown food flavoured with Mediterranean spices is the essence of the menus. Kespro is the new partner responsible for food service supplies for Finnlines' ships operating between Finland and Sweden. Finnlines' new freight-passenger ships in the Superstar class, which will enter the Naantali-Långnäs-Kapellskär route in the autumn, offer a traditional buffet but also a wide range of culinary delights, both food and beverages.
Henri Alén, chef and restaurant keeper, well-known from TV, has been involved in designing menus for Fisherman's Bistro, Barrel Bay and Micke's À la carte restaurants.
"The shipboard restaurants have one common theme, which is not to compromise with different concepts. We will serve tasty treats from the Archipelago and experiences with an international touch. We work hard to serve food that is not fuel, but a culinary delight. Whether it is hot cereal in the morning, a pastry at a meeting or dinner in the evening - each serving must have a story behind it," Alén says.
The dining concept on the Superstar ships lifts the restaurant services to a new level. Finnlines designed a business idea for restaurants and started to refine it together with Alén one year ago. This co-operation created an unforgettable restaurant world, which respects the marine environment and serves dishes which are part of the travel experience, an ambitious concept without any unnecessary gimmicks.
"I started to think what I myself would like to eat in the archipelago, what would lift my mood or make me smile. What kind of a dining experience would serve well on different occasions, ranging from meetings to a romantic cruise?"
Alén promises that passengers on the new ships will have the best culinary experience ever on Finnlines' ships.
"I am really proud of Micke's Wine & Dine À la Carte breakfast and my guess is that dishes and sauces at Fishmarket & Grill Barbeque are something that never tasted on a ship. I am sure I will enjoy quick bites at the Barrel Bay bar and crayfish in the Fishmarket."
"It takes time to reduce food waste but not to compromise enjoyment, but we owe this to Earth. The cross-use of raw materials has been carefully planned. It reduces waste and energy consumed in cooking. These are small things that can easily make a difference," Alén says.
Many of the raw ingredients in the new menus have been found in the archipelago. Bakery products come from Turku and its surroundings, lamb, archipelago buffet and local soft drinks come from Åland. Kespro's extensive list is used in selection of suppliers from small farms.
"To create a restaurant world was a new challenge to us and that is why we decided to turn to a professional outside Finnlines. Alén is down to earth, he appears on TV but also cooks by the stove," says Dan Grönvall, Chief Cook at Finnlines.
It is important to stay on schedule in large projects. Grönvall says that co-operation with Alén has been excellent and uncomplicated.
"Although he is busy, he has had plenty of time to brainstorm menus and exchange ideas. He has helped us and come up with many ideas."
Co-operation with Kespro ensures sustainable raw ingredients
This spring Finnlines started a close co-operation with Kespro, which supplies food services to Finnlines' ships on the route between Finland and Sweden.
The co-operation between Finnlines and Kespro is part of the concept renewal for the Superstar ships. Passengers will be served food, which has been produced locally and sustainably.
"Which ingredients, where and how they come to our ships is of great importance. When we order from Kespro, we can trust that products have been responsibly produced. We emphasize use of domestic raw ingredients and local production," says Tom Pippingsköld, President and CEO of Finnlines.
The main themes of the Superstar dining concept are sustainability, domestic and local products and seasonal variations. The carbon footprint of restaurant services comes mainly from air emissions during primary production and this is why choice of suppliers is also an important environmental aspect.
"In the restaurant business, the importance of sustainability has increased among our partners and their customers. For Kespro sustainability is not only a promise, but it is reflected in our products and actions daily. Today passengers travelling with Finnlines have higher expectations of restaurant services and we do our utmost to meet and exceed the expectations. We offer Finnlines' ships versatile skills and a wide array of products," says Mika Halmesmäki, Vice President at Kespro.
"On our new Superstar ships we want to serve the most delicious food in the Archipelago Sea and we need the best possible partner to succeed in this. Kespro offers excellent and reliable logistics and the company can quickly react to fast changes. Kespro is a sustainable operator and opportunities to co-operate are endless," Pippingsköld says.
Superstar ro-pax vessels Finnsirius and Finncanopus
• Scheduled entry into traffic in autumn 2023 on the Naantali–Långäs–Kapellskär route
• Cargo capacity 5,200 lane metres, equivalent to 250 lorries and 200 cars
• Passenger capacity 1,100
• 323 passenger cabins
• 64 crew cabins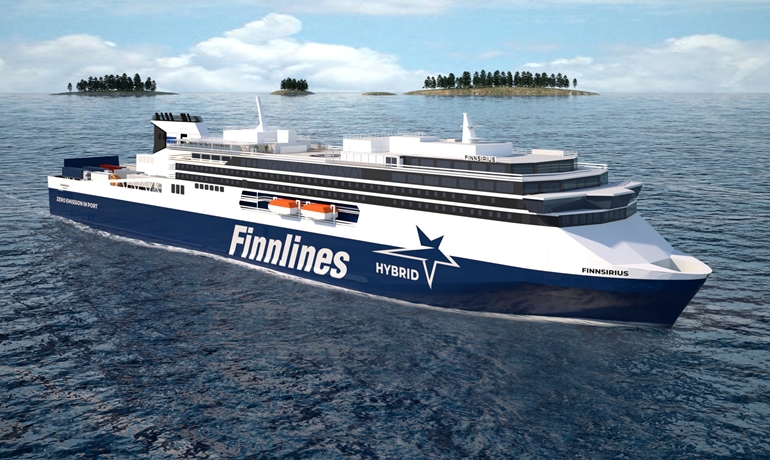 Illustration of FINNSIRIUS © Finnlines Plc
---