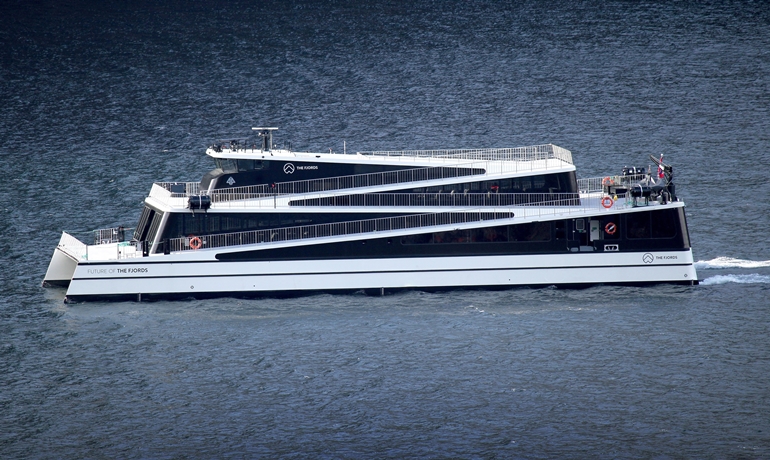 FUTURE OF THE FJORDS © The Fjords
The Fjords sets sights on Oslo expansion in 2020 with LEGACY OF THE FJORDS
The Fjords DA is delaying a planned move into Oslo, with the news that the all-electric LEGACY OF THE FJORDS will now be delivered from specialist shipyard Brødrene Aa on 1 May 2020. The company, which currently operates 11 vessels serving Western Norway's spectacular fjords area, had arranged delivery of the futuristic 400 PAX catamaran for 2 July this year. However, issues finalizing the required battery-loading infrastructure within the Oslo harbour area have led to a reappraisal of the launch schedule.
LEGACY OF THE FJORDS shares the award winning design of sister vessels VISION OF THE FJORDS, an electric diesel hybrid, and FUTURE OF THE FJORDS, the world's first all-electric carbon fibre catamaran. Both won the 'Ship of the Year' accolade at SMM in Hamburg from Skipsrevyen (Vision in 2016, Future in 2018), while the design itself has collected the Norwegian Centre for Design and Architecture (DOGA) Universal Design 'Transport' award, for its unique accessibility, as well as the overall 2017 DOGA Innovation prize.
Maximising potential 
"It's naturally disappointing to have to delay this launch," comments Vidar Hauståker, Acting CEO, The Fjords, "but at the same time it is vitally important to have everything in place for this environmentally friendly, energy efficient and breath-taking new craft. 
"To maximize the commercial potential of the launch we, with the backing of Brødrene Aa, have decided to hold back its arrival until 2020 so we can gain the optimal value from a full high-season of operations. Our close partnership with the yard has enabled us to reach this joint decision, ensuring that all the elements are in place for a maximum impact launch – with a vessel unlike anything else on the capital city's fjord – in 2020.
"We're looking forward to that with a real sense of excitement and anticipation." 
Unique perspectives
VISION OF THE FJORDS, which usually operates within the UNESCO World Heritage listed Nærøyfjord, has trialled a new route in Oslo over the winter months with great success. It is now due to move back to its homeport of Flåm for the main tourist season at the end of April. 
"This pilot project has demonstrated that the appetite for a new kind of tourism proposition, viewing Oslo from a unique perspective, on a ship tailored to provide optimal passenger experience, is definitely there," notes Hauståker. "LEGACY OF THE FJORDS, with its comfortable lounges and uniquely accessible deck - giving everyone, regardless of mobility, at least a full 1m of railing space - will deliver something special for our capital city, enhancing its appeal within the visitor marketplace. What's more, with its zero emission all-electric operations, it will do so with the ultimate environmental credentials."
Close collaboration
Brødrene Aa has constructed all three vessels using its acclaimed, in-house SEASIGHT design. The Norwegian yard is an acknowledged world leader in building fuel-efficient, fast passenger vessels and ferries in carbon fibre.
Speaking of his firm's collaboration with The Fjords, Tor Øyvind Aa notes: "The Fjords is an important customer and valued partner and we look forward to the on-going development of our productive, and ground breaking, working relationship. LEGACY OF THE FJORDS' delay does not impact upon the business adversely, as our highly skilled staff have on-going projects filling capacity at the company yard in Hyen. We will now focus our efforts on ensuring a successful launch in 2020."
The Fjords is jointly owned by tourist body Flåm AS and Norway's leading ferry company Fjord1. It operates with the objective of providing unforgettable passenger experiences, while also protecting the unique landscapes the vessels give access to. LEGACY OF THE FJORDS, which is supported by state run organisations Enova and the NOx Fund, will feature a state of the art battery solution provided by Westcon.
Facts – LEGACY OF THE FJORDS:
Length: 42 m
Width: 15 m
Materials: Carbon fibre sandwich
Seats:  400
Class: DNV GL light craft
El-motor: 2 x450kW
Propeller: CPP propeller
Battery pack: 1800 kWh
---
Most read
Press Releases
Jun 18 2019
PBES and GTC Energy Solutions Announce EU Manufac...
---
Jun 18 2019
NAVTOR integrates environmental regulations into ...
---
Jun 18 2019
Leanships project with Wärtsilä & partners achiev...
---
See all press releases
Products