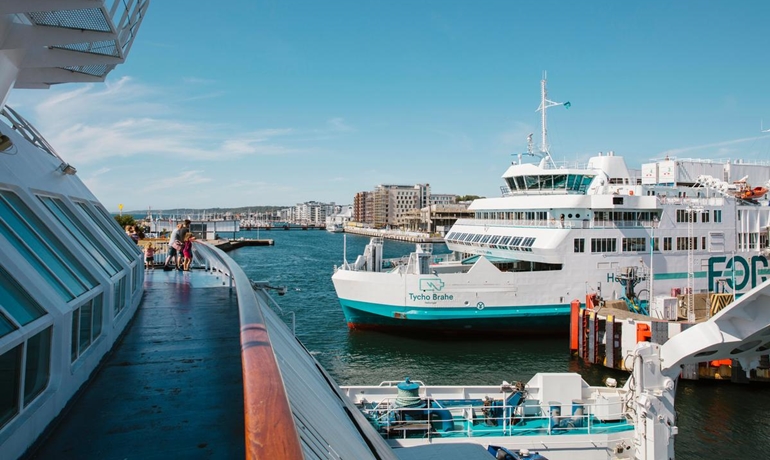 © ForSea
Over 1 million travelers with ForSea in July
The desire to travel is back and the Helsingborg-Helsingør strait is again crossed frequently, like before the pandemic. Homecation is here to stay, and the travelers are many. During the month of July, over 1 million traveled with ForSea.
After two pandemic years, ForSea is back at levels similar to the normal year 2019. There are many travelers and the desire to eat well, shop and visit the other side of the strait is great. ForSea notices an increase, above all, in shore-based travelers, which also indicates that it is precisely the short, spontaneous trips, often day trips, that are responsible for the large increase. During one day in July, a record number of 28,228 shore travelers traveled, which has not been measured since a July day in 1996. The travelers not only treat themselves to travel, but also take part in ForSea's offer on board in terms of restaurant/café and shopping.
"It feels fantastic to be able to see stability in our travel statistics after two years. During the past pandemic years, we have worked hard to improve the experience for customers and our business, and we have sailed according to the regular itinerary as much as possible. We have invested enormous resources in our offer on board to be able to ensure a sustainable journey from many perspectives. Now we stand here with over 1 million travelers in July, a KRAV-branded restaurant and a selection in our stores that travelers appreciate, which the sales figures also clearly point to. Add to that the green travel with a CO2 reduction of 26,200 tons since 2016. It feels fantastic," says Kristian Durhuus CEO of ForSea.
---
Most read
Press Releases
Aug 19 2022
KiwiRail selects MAN engines for new ferries
---
Aug 17 2022
Crowley Secures Subcontract for Casco Bay Lines H...
---
Aug 17 2022
Carnival Cruise Line says booking activity nearly...
---
See all press releases
Products