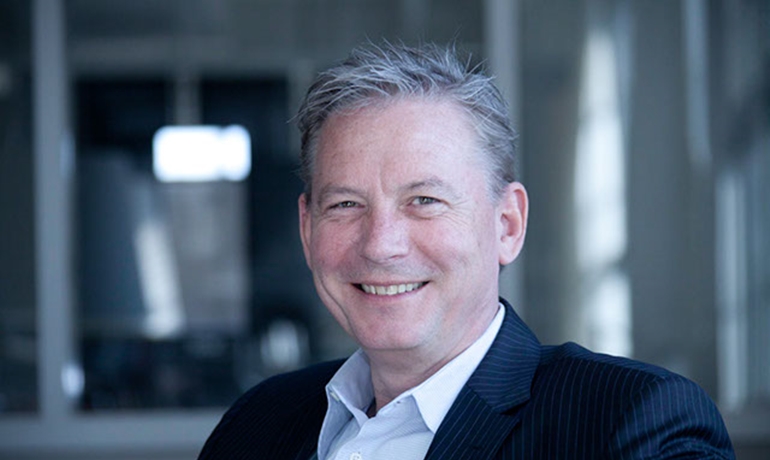 Søren Jespersen is new Chairman of the Board of Directors for OSK Group © Søren Jespersen
New Chairman of the Board for the companies of OSK Group
Danish maritime designers and naval architects OSK Group kicks off 2022 and the next leg of their strategic and commercial journey with a change of chairman. Søren Jespersen, former CEO of Molslinjen and COO of DFDS A/S, takes over as new Chairman of the Board of Directors of OSK Group, when Ove Rønne hands over the reins after almost three decades at the helm.
Conscientious design and commercial expertise
For the past five years OSK Group has worked intensively on our business strategy to continuously ensure our competitive advantage, which is based on a strong combination of conscientious design and commercial expertise. To facilitate our continued development and further cement our market position, we now have a new chairman of the board of directors. We are therefore pleased to announce that Søren Jespersen is the new Chairman of the Board of Directors for OSK Group, which consists of OSK-ShipTech A/S, Steen Friis Design A/S and OSK-Offshore A/S.
"We operate in a business climate defined by ever-changing legislation and intense focus on the environmental impact of our industry as well as the disruption that the corona pandemic has brought to passenger travel and the cruise industry over the past years. One of our key strengths in this climate is our agility and knowing our customers and their business models so we can provide them with optimal and future-proof design and consultancy in any situation. With his extensive experience, both as CEO as well as through a long line of chairman positions, Søren brings to OSK Group invaluable commercial and strategic knowledge, and we are really looking forward to the collaboration and the work ahead of us," says Jacob Høgh Thygesen, CEO of OSK Group.
A strong sense of purpose
Ever since the beginning of OSK back in 1966, the company has had a strong sense of purpose, which has always been to assist our clients all the way. "Over the years, this purpose has only grown stronger," says Anders Ørgård, CCO and majority shareholder of OSK Group. He continues: "Our finest job is to hold our client's hand, but also to push and pull gently, where and whenever we can. We are here to design and enable sustainable seaborne travel, but we can only do this together with our customers. With Søren's extensive commercial experience, we are certain we will be even stronger in this respect."
Hello to one means goodbye to another
With the appointment of Søren Jespersen, OSK Group unfortunately says goodbye to Ove Rønne, who has decided to pass on the baton after nearly thirty years aboard OSK. With empathy, flair and a strong business sense, Ove has overseen the rapid growth and maturing of OSK from a single company of naval architects and engineers to an entire family of companies and a full-line supplier of maritime design and consultancy.
"We are really sad to say goodbye to Ove, as he has been part of our journey and professionalisation for so many years. He knows OSK through and through, he knows our history, all our designers and employees, and he has been at the head of the table through all our ups and downs. On behalf of all the owners and entire OSK Group, I want to thank Ove for his work and dedication to OSK throughout the years," says Jacob Høgh Thygesen.
OWNERS, OSK GROUP
Søren Jespersen, Chairman of the Board of Directors
Anders Ørgård, Majority Shareholder & CCO OSK Group
Jacob Høgh Thygesen, CEO OSK Group
Kristian Carøe Lind, CTO OSK Group
Kristian Holten Møller, Deputy CTO OSK Group
Rasmus Bayer, Senior Project Manager / Naval Architect, OSK Group
BIO, SØREN JESPERSEN
Former CEO of Molslinjen and COO of DFDS A/S, former Senior Vice President at SAS A/B.
Søren holds an MBA from IMD in Lausanne and has served at the Board of Directors in more than 30 companies.
Current board positions:
OSK Group, Chairman
Viking Bus, Chairman
DanPilot, Chairman
CMP, Board member
Former board positions:
Molslinjen, Deputy Chairman
Cruise Copenhagen, Chairman
ProDesign, Chairman
Canal Tours, Chairman
Scandinavian Multi Access Systems, Chairman
The Danish Maritime Fund, Board member
Travellink AB, Board member
And many more
---
Most read
Press Releases
Jan 26 2022
Viking Line puts AMORELLA on the Stockholm - Hels...
---
Jan 25 2022
Holland Norway Lines partners with COLUMBIA sign...
---
Jan 25 2022
Broad scope of Wärtsilä power solutions selected ...
---
See all press releases
Products