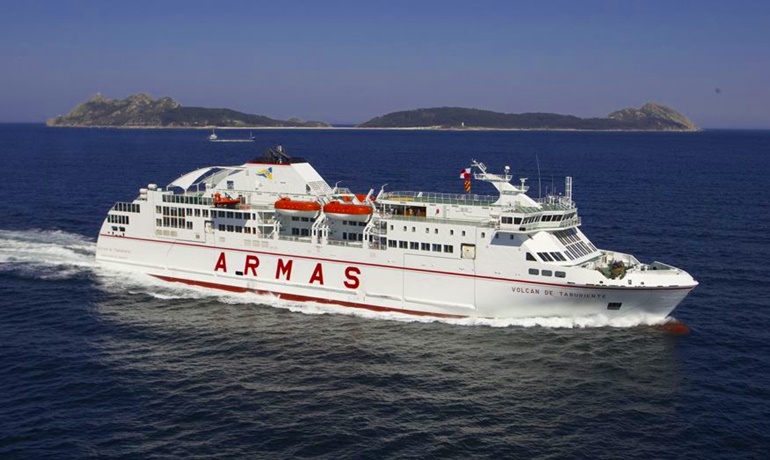 VOLCAN DE TABURIENTE © Armas
Naviera Armas reinforces La Palma with a double daily rotation
Naviera Armas Trasmediterránea reinforces the La Palma line with two daily rotations, departing from Los Cristianos from Monday to Friday at 8:45 a.m. and 7:45 p.m. On Saturday the departure will be at 7:00 p.m. and on Sunday at 8:45 a.m. The departures from La Palma will be from Monday to Friday at 04:00 and 14:00, Saturday at 04:00 and Sunday at 13:30.
With this new schedule, Naviera Armas Trasmediterránea meets the official requests and those of its clients, to ensure, above all, the transport of ro-ro cargo due to the special circumstance that the volcanic eruption that occurs in La Palma is supposing.
This rescheduling allows adding an additional frequency from the port of San Sebastián de La Gomera from Monday to Thursday at 11:30 a.m. and at 1:45 p.m. from Los Cristianos, except on Fridays when the departure from Los Cristianos will be at 3:30 p.m.
On a daily basis, from Monday to Friday, the VOLCAN DE TABURIENTE ferry will depart from La Gomera at 7 am and 5:30 pm and from Los Cristianos at 8:45 am and 6:45 pm. On Saturdays the departure is early at 5:00 p.m. from La Gomera and at 7:00 p.m. from Los Cristianos and on Sundays it departs at 7:30 p.m. from La Gomera and at 9:00 p.m. from Los Cristianos.
The VOLCAN DE TABURIENTE ferry sails at a speed of 22 knots and has a capacity for 1,500 passengers and 1,200 linear meters of ro-ro cargo and 305 cars.
---
Most read
Press Releases
Oct 20 2021
Joint development agreement signed between I-Tech...
---
Oct 19 2021
European shipowners support the uptake of clean f...
---
Oct 19 2021
Kongsberg Maritime and China Merchants Industry s...
---
See all press releases
Products