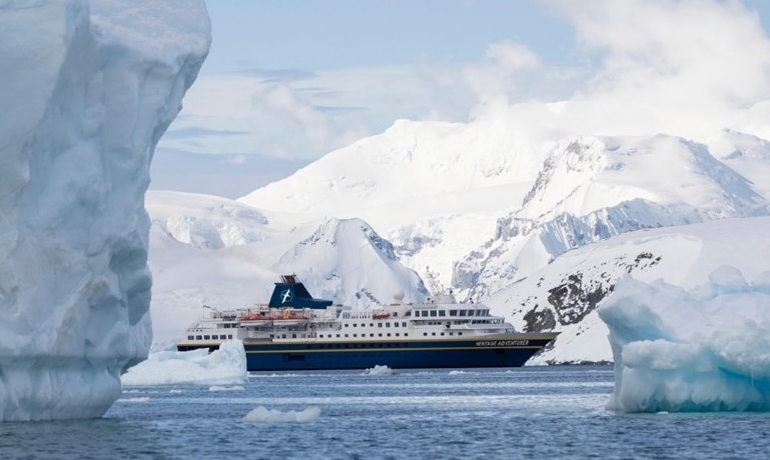 HERITAGE ADVENTURER © Jason Ransom
Heritage Expeditions Selects VIKAND for Medical Management aboard new flagship Expedition Vessel, HERITAGE ADVENTURER
VIKAND—the global maritime medical operations and public health provider—has entered into a medical management agreement with pioneering small ship expedition cruise company Heritage Expeditions to manage all medical operations aboard its new exploration vessel, HERITAGE ADVENTURER. With a distinguished pedigree and holding records for the most northern and southern Arctic and Antarctic navigations, HERITAGE ADVENTURER holds a 1A Super iceclass rating. She accommodates just 140 guests in her spacious, stylish, and comfortable interior while a fleet of 14 Zodiacs ensures guests are able to maximize every opportunity to learn, discover and experience as much as possible.
Based in New Zealand and offering true, small ship exploration, conservation-based Heritage Expeditions was founded in 1985 to share some of the world's most remote shores, islands, and coastlines with intrepid travelers. Its voyages continue to cultivate wildlife ambassadors with trips to Antarctica, the Subantarctic Islands, New Zealand, Australia, the islands of the South Pacific and Asia. A Heritage Expeditions' cruise is designed to provide travelers with a greater understanding of the regions, cultures, and ecosystems of its destinations. All aspects of voyaging to remote and far-reaching destinations are thoughtfully planned and include respecting the environment, minimizing waste, managing fuel consumption and traveling in small groups. Aboard, every detail is wisely considered with great attention-to-detail for guest comfort and safety. This includes safe healthcare practices.
 
Aaron Russ, Co-Director of Heritage Expeditions with brother Nathan, says, "Our proven health and safety protocols have resulted in our successfully and safely operating expedition voyages in the COVID environment since November 2020. As we prepare for our upcoming South Pacific and Southern Ocean Season our partnership with VIKAND allows us to match these adventures, sights, and experiences with peace of mind due to their industry-leading healthcare solutions."
VIKAND's comprehensive approach to cruise line healthcare includes medical facility operations, outbreak prevention and mitigation, emergency support, formulary and biomedical equipment management, medical staffing, and ongoing consultation. VIKAND's solutions cover every aspect of on board medical care to provide a protected environment for guests and crew alike with direct benefits of maintaining operational continuity and reducing risk.
---
Most read
Press Releases
May 13 2022
Carnival Cruise Line breaks ground on new cruise ...
---
May 13 2022
MacGregor has received an order to supply RoRo eq...
---
May 11 2022
DFDS: April volume report: Freight Up 5%, Continu...
---
See all press releases
Products