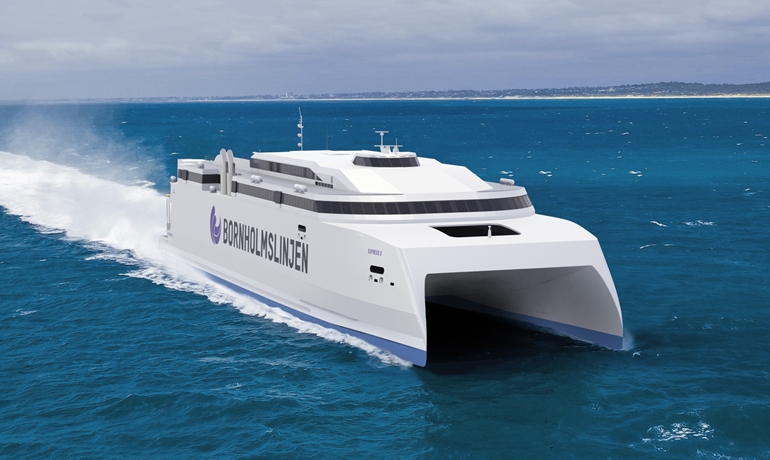 EXPRESS 5 © Austal
EXPRESS 5 will be delayed from the shipyard
The delivery of the world's largest fast ferry to Bornholm is delayed. EXPRESS 5 is now expected to be delivered from the yard at the end of 2022, Austal has announced.
According to the Austal, covid has made it difficult for Australian shipbuilders to have crews and hull parts exchanged between the shipyards in the Philippines and Vietnam.
"The yard has struggled to make things stick together, but now the yard's management has announced that due to the situation they can not reach the finish line with the construction as promised," says Molslinjen's CEO, Carsten Jensen.
EXPRESS 5 was scheduled for delivery in the second quarter of 2022 - now, according to the yard, delivery must be pushed to the last quarter instead. The Ministry of Transport has been informed of the delay and has subsequently informed Bornholm's mayor, Thomas Thors..
As responsible for the construction, Austal will now present a new plan for the completion of EXPRESS 5, and negotiations are underway with the yard on the preconditions for the further course. This is happening at the same time as the world is gently beginning a reopening, which will also include the possibility that the Bornholmslinjen can send its own people down to EXPRESS 5.
"We are very saddened by this unacceptable delay, but now we look forward to being able to be physically present at the yard soon, so we can help ensure that the new plan holds," says Carsten Jensen.
Bornholmslinjen has already planned extra frequencies with both EXPRESS 1 and MAX on the busy summer days in 2021. Thus, the expected demand for the summer of 2021 can be lifted with the current capacity.
---
Most read
Press Releases
Jun 14 2021
Commuters travelling between Finland and Estonia ...
---
Jun 14 2021
Stena Line eases mouth mask requirements for pass...
---
Jun 14 2021
More orders in Norway for Cavotec's next generati...
---
See all press releases
Products