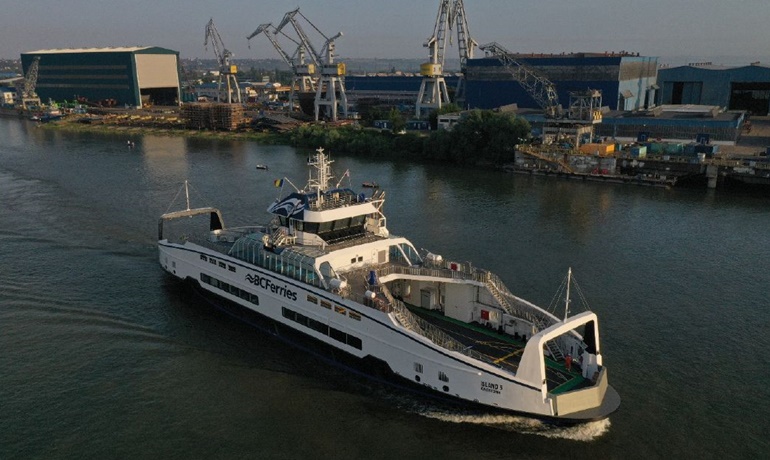 BC Ferries' Island Class © BC Ferries
BC Ferries' sixth Island Class ferry departs Romania bound for B.C.
BC Ferries' sixth Island Class ferry is now on its way to British Columbia after departing Damen Shipyards Galati in Romania at sunrise on October 11. ISLAND 6, as it is temporarily named, is the last in this series of newly built Island Class ferries to join BC Ferries' fleet.
It will take approximately 60 days, depending on weather, for ISLAND 6 to make the transoceanic voyage. The ship will sail under its own power approximately 10,700 nautical miles across the Atlantic Ocean, through the Panama Canal and up the Pacific Coast of North America arriving at Point Hope Maritime in Victoria, B.C. later this year.

Like the three Island Class ferries that came before it, approximately one-third of ISLAND 6's journey is expected to be completed by using battery power with the main engines stopped; proof that the Island Class ferries will be able to operate as fully electric vessels once BC Ferries' terminals have plug-in recharging capabilities. The batteries will be charged during the voyage by a diesel generator.

The Island Class are battery hybrid electric ferries with a number of key features that support BC Ferries' goal to be efficient and environmentally responsible throughout its system. They are designed for future full electric operation, and are fitted with hybrid technology to bridge the gap until shore charging infrastructure can be installed. Island Class ferries have the capacity to carry at least 47 vehicles and up to 400 passengers and crew, and allow for fleet redeployments and retirements of existing diesel-fuelled vessels.

"It is exciting to reach this milestone in our Island Class project," said Captain Jamie Marshall, BC Ferries' Vice President, Shipbuilding & Innovation. "As these new ferries come into service, we are realizing important environmental and sustainability benefits. Electric propulsion is quieter, smoother and more efficient compared to the traditional diesel propulsion of the vessels the Island Class will be replacing, and these ships will improve customer service by adding more capacity and frequency of service. We're proud of the steps BC Ferries is taking to improve the ferry system in coastal British Columbia."

BC Ferries will take ownership of ISLAND 6 upon final inspection at Point Hope Maritime. The arrival of this new vessel will allow for the Nanaimo Harbour – Gabriola Island route to be serviced by two Island Class vessels starting in 2022.
BC Ferries looks forward to officially unveiling the name of the new vessel and welcoming the ship into service next year.
---
Most read
Press Releases
Oct 20 2021
Joint development agreement signed between I-Tech...
---
Oct 19 2021
European shipowners support the uptake of clean f...
---
Oct 19 2021
Kongsberg Maritime and China Merchants Industry s...
---
See all press releases
Products