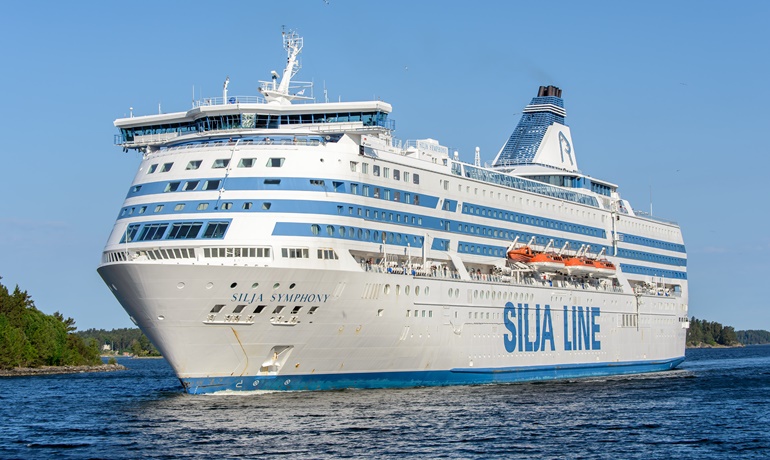 © Christian Costa
Who will you meet at the 2022 Shippax Ferry Conference next week?
We are very happy to announce the full list of companies and organizations attending this year's conference.
Please find below the full list of 220 companies and organizations registered as of 27 April.



Booked as of 27 April:
3mar, ABB Marine & Ports, Abelle Consulting , ACTEMIUM, Adriatic Fast Ferries, Aeronet Global Communications, AFERRY, Allstars Eningeering, Alta Shipping Brokers, Anda-Olsen, Aros Marine, ASTA TREJD dooel, Attica Group, Austal, Avenir LNG, Balearia, Barry Rogliano Salles, Berg Propulsion, Beurteaux Marine Interiors, Blücher, Bolidt Synthetic Products & Systems, Brax Shipping, Brunvoll Volda, BSA Shipping Agencies ANS, Bureau Veritas, Business Finland / Finland Trade Center, C&MORE, Caledonian Maritime Assets, Carrier, Carus, Cavotec, CCH Design, Cemre Shipyard, Center of Maritime Technologies, C-Job Naval Architects, Clarksons, Color Line, Condor Ferries, Corsica Ferries, Corvus Energy, DAMEN, Danfoss, Danish Export Association, Deltamarin, Destination Gotland, DFDS, Dauerflora, DMS, DNV, Dodekanisos Seaways, DP World, Echandia, Eckerö Group, E-Dea, EHRENBERG SØRENSEN Kommunikation, Elkon, eMarine Engineering Nordic, Enrico Scolaro Shipbrokers, FerryGateway Association, Ferryhopper, Fjord Line, Flensburger Schiffbau, Foreship, Fosen Yard, Frese, FRS, Fugro Norway, G.Eknes Industrier, GCE Blue Maritime Cluster, GE Power Conversion, GTF-Finland, Georg Fischer, Gislaved Folie, Glamox, Glasgow School of Art, Godby Shipping, Gordion, Gotland Tech Development, GNV, Grimaldi Group, HADAG Seetouristik und Fährdienst AG, Helsinki Shipyard, Hogia Ferry Systems, Incat Tasmania, INTERFERRY, Jadrolinija, Johnson Controls Marine, JSC Western Baltija Shipbuilding, KfW IPEX-Bank, Knud E Hansen, Kockumation, Koncept, Kongsberg, Kudos Dsign, LG Electronics, Liferaft Systems Australia, Lloyd's Register, LMG Marin, Logos Payment Solutions, Loipart, LTH-Baas, Lubtec, Maatsuyker, MacGregor, Macholl & Specht, Macna, Malta Shipbrokers International, Marahrens, MARELCO, Marine & Energy Consulting, Marioff, Mercy Ships, Meyer Turku, MikMek, Mineralka, Mintie Corporation, MLSea, Moby , Naos, NAP, NAPA, Naval Interior Team, naValue, Navitaship, Neue Pellwormer Dampfschiffahrts , Nevron, Nordic HSC, Nordvik Shipping, Norled, North Sea Offshore, Norwegian Electric Systems, Norwegian Seafarers Union, Nowhere Networks, Orcan Energy, Oresund Drydocks, OSK-ShipTech, P&O Ferries, Paf Casino, Parimar Shipbrokers, Pfleiderer Deutschland, Port of Gdynia, Port of Hanko, Port of Helsinki, Port of Hirtshals, Port of Igoumenitsa, Port of Karlshamn, Port of Kristiansand, Port of Naantali, Port of Turku, Ports of Stockholm, Poseidon Konsult, Pressreader, Pyro Thermal Energy Solutions, RAB Microfluidics, Rauma Marine Constructions, Rederi AB Eckerö, Rederi AB Gotland, Redwise Maritime Services, Refit & Maintenance, REGENT Craft, Remontowa Shipbuilding, RINA, Safety Group, Scandlines, Scanel International, Scanmarine, Schottel, Sea Lines, Seachange New Zealand, SEAM, Sefine Shipyard, Shift Clean Energy, Shippax, Shipshape Consulting, Sika Services, Simsonship Shipbrokers, Sita, Smyril Line, SODAFLEXX, Solvay Chemicals, Spear Power Systems, Specto Remote , Speedcast, SRC Group, Star Information Systems, Steen Friis Design, Steerprop, Stena Line, Stena RoRo, Surikat, Tallink Grupp, Teknotherm Marine, Telenor Maritime, Telenor Satellite, Tersan Shipyard, The Isle of Man Steam Packet Company, The SMS Group, Ticknovate, TLS - Boca Systems, TOS People & Ship Delivery, Trident BMC, TS Laevad , TT-Line, UES International, UME Shipping, Valmet, VDR - German Shipowners' Association, Ventrafiken, Vetrotech Saint-Gobain, Vida by Erzia, Viking Line, Wabtec - Stemmann, Wallenius Marine, Wasaline/NLC Ferry, WE Tech Solutions, Western Baltic Engineering, Wärtsilä, Yara Marine Technologies, Zinus, ZITRON
The are still some seats left. Want to join? 
Don't miss out to be seen - grab one of the last exhibition areas and/or sponsorships to have the maximum of exposure
For those of you staying before and/or after the day(s) of the conference, we have a special discounted price at the Clarion Hotel Sign, Stockholm. Hotell information (limited)
Shippax Ferry Conference 2022 is the 19th annual onboard ferry conference and the first major ferry event and possibility to meet the industry in post-pandemic conditions.
Meet all the major players of the ferry industry, catch up with the latest products and developments and enjoy a world-class networking together with friends, colleagues, customers and future customers.
We offer a value-for-money package with all events, meals and cabins included in the price.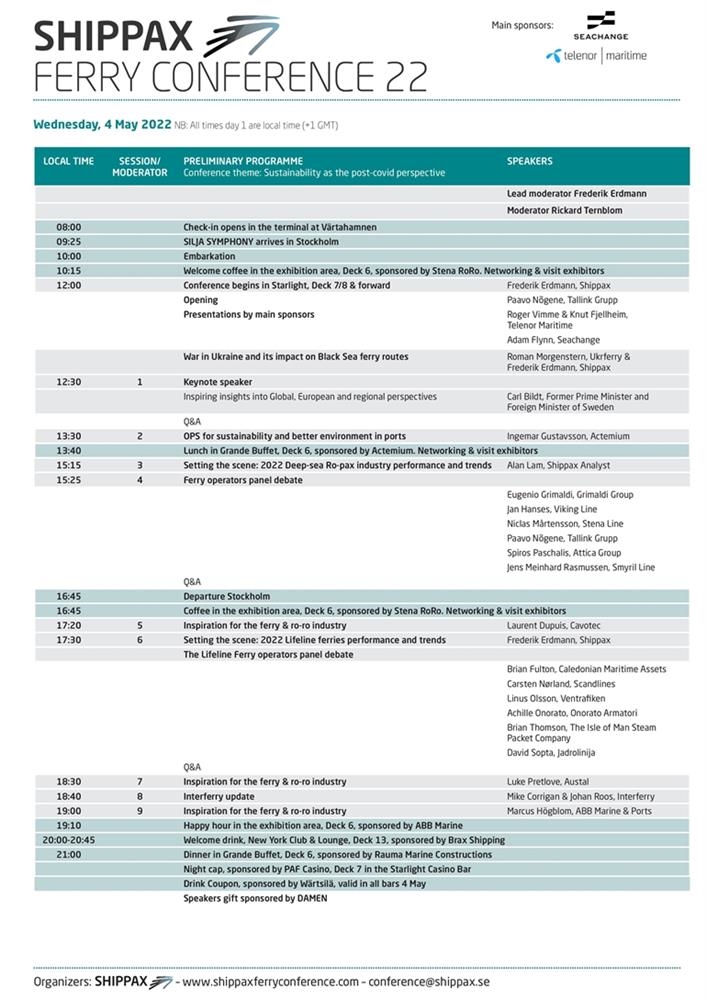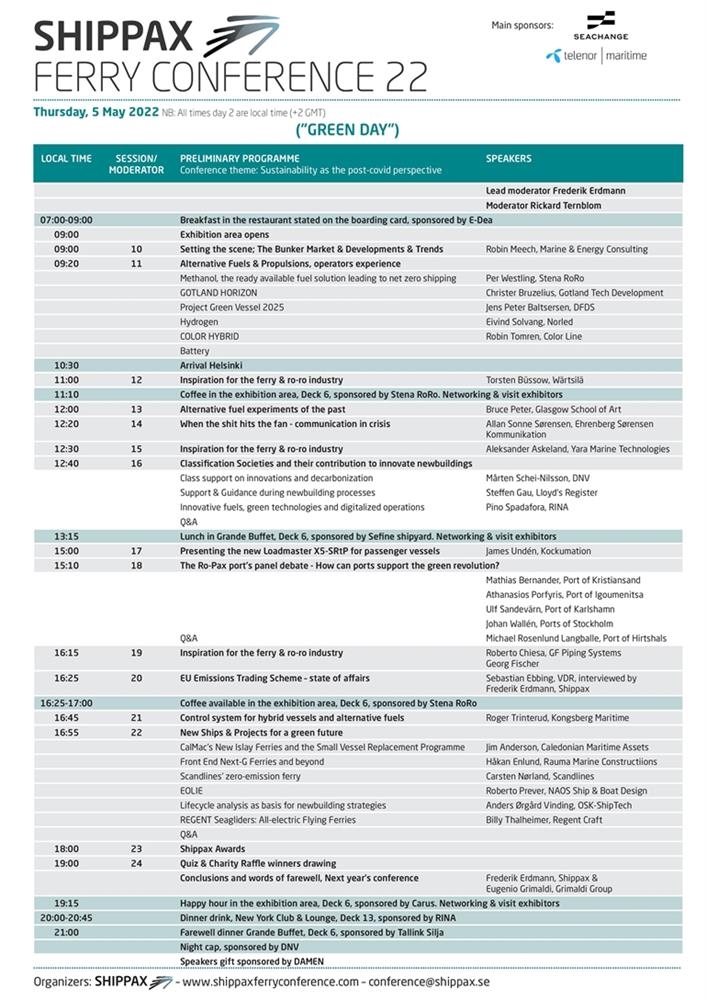 WHERE? SILJA SYMPHONY
ROUTE? Stockholm-Helsinki-Stockholm
WHEN? 4-6 May, 2022
Theme
"Sustainability as the post-covid perspective"
Main programme sessions
Keynote speakers
Ro-pax, lifeline ferry and port executives panel debates
Ferry industry performance and megatrends
New ships and projects
Bunker market developments and trends
Alternative fuels and propulsions-experiences and lessons from the operator's point of view
Alternative fuel experiments of the past
Classification Societies and their contribution to innovative newbuildings
Communication in time of crisis
Inspirations for the ferry industry
Interferry
Shippax Awards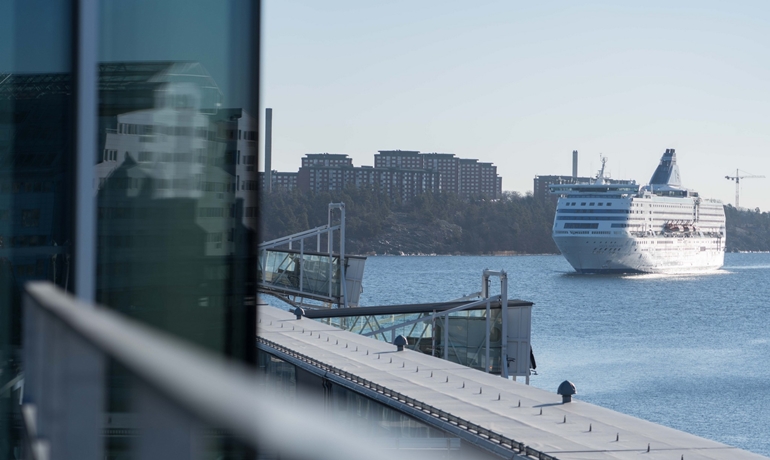 Moderators:
Frederik Erdmann
Correspondent for Shippax since 1996 and professionally involved with shipping since 1999
Rickard Ternblom
Management consultant and advisor, former Fjord Line CEO and a true "Ferry person"
Keynote speaker:
Carl Bildt - Former Prime Minister and Foreign Minister of Sweden
Speakers:
Jim Anderson - Director of Vessels Caledonian Maritime Assets Limited
Aleksander Askeland - Chief Sales Officer Yara Marine Technologies
Jens Baltsersen - Senior Project Manager DFDS
Mathias Bernander - Chief Marketing Officer Port of Kristiansand
Christer Bruzelius - Senior Partner & Project Owner Gotland Tech Development AB / Rederi AB Gotland
Torsten Bussow - Managing Director, Electrical & Power Systems Business, Wärtsilä
Roberto Chiesa - Head of Business Development Marine GF Piping systems
Mike Corrigan - CEO Interferry
Laurent Dupuis - VP Product Management ShorePower Cavotec
Sebastian Ebbing - Technical Advisor German Shipowners' Association
Håkan Enlund - EVP, Sales and Marketing Rauma Marine Constructions
Knut Fjellheim - CTIO Head of Research & Development Department Telenor Maritime
Adam Flynn - VP of Engineering Seachange
Brian Fulton - Head of Business Support at CMAL and Executive Director of the Scottish Maritime Cluster
Steffen Gau - Marine New Construction Lloyd's Register
Eugenio Grimaldi - Executive Manager Grimaldi Group
Ingemar Gustavsson - Director ACTEMIUM
Jan Hanses - CEO Viking Line
Marcus Högblom - Vice President of Global Sales ABB Marine & Ports
Alan Lam - Contributing correspondent and analyst Shippax
Michael Rosenlund Langballe - Head of Transport & Logistics Port of Hirtshals
Robin Meech - Managing Director Marine and Energy Consulting
Roman Morgenstern - Marketing and Project Director Ukrferry
Niclas Mårtensson - CEO Stena Line
Paavo Nõgene - CEO Tallink Grupp
Carsten Nørland - CEO Scandlines
Max Olson - CEO and founder Seachange
Linus Olsson - Managing Director Rederi AB Ventrafiken
Achille Onorato - Vice chairman Moby S.p.A and CEO Moby S.p.A
Spiros Paschalis - CEO Attica Group
Bruce Peter - Professor of Design History at the Glasgow School of Art
Athanasios Porfyris - CEO Igoumenitsa Port Authority S.A.
Luke Pretlove - Technical manager Austal
Roberto Prever - CEO NAOS Ship and Boat design
Jens Meinhard Rasmussen - CEO Smyril Line and Skansi Offshore
Johan Roos - Director of Regulatory Affairs, Interferry
Ulf Sandevärn - Marketing Manager Port of Karlshamn
Mårten Schei-Nilsson - Area Manager DNV
Peter Schild - Director Marine Fuels Proman
Eivind Solvang - Technical Department Manager Norled
David Sopta - President of the Management board Jadrolinija
Pino Spadafora - Senior Director Marine Commercial RINA
Allan Sonne Sørensen - Partner & CEO EHRENBERG SØRENSEN Kommunikation
Billy Thalheimer - CEO REGENT
Brian Thomson - Managing Director Isle of Man Steam Packet Company
Robin Tomren - Executive Vice President Color Line
Roger Trinterud - Sales Director passenger segment Kongsberg Maritime
James Undén - Lead Naval Architect Kockumation
Roger Vimme - Sales Director & Head of Ferry Telenor Maritime
Johan Wallén - Chief Commercial Officer Ports of Stockholm
Per Westling - Managing Director Stena RoRo
Anders Ørgård - Chief Commercial Officer OSK-ShipTech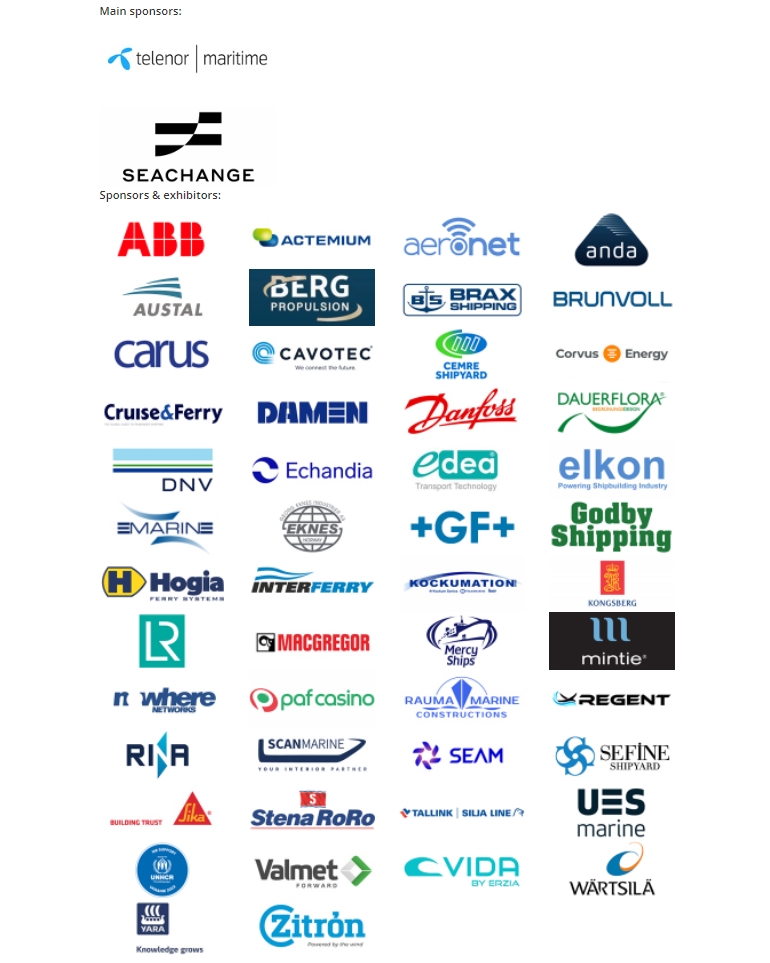 ---
Most read
Press Releases
May 13 2022
Carnival Cruise Line breaks ground on new cruise ...
---
May 13 2022
MacGregor has received an order to supply RoRo eq...
---
May 11 2022
DFDS: April volume report: Freight Up 5%, Continu...
---
See all press releases
Products