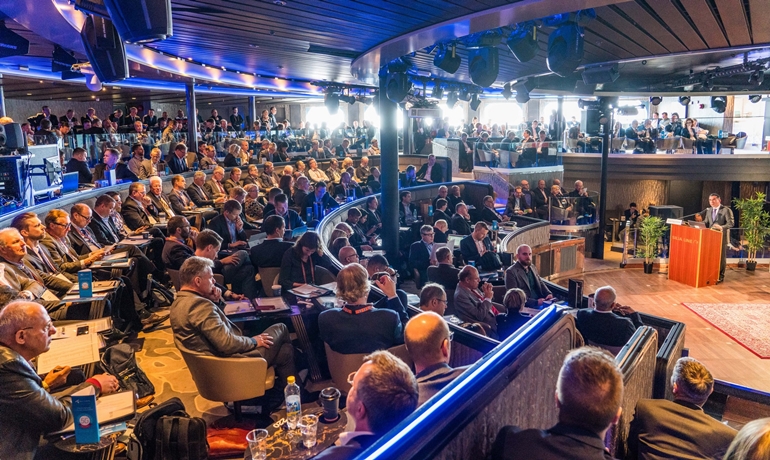 Meet all the major players of the ferry industry-Shippax Ferry Conference!
Shippax Ferry Conference, the 19th annual onboard ferry conference, is the must-attend springtime event where all the major players of the ferry industry come to catch up with the latest products and developments and enjoy a world-class networking together with friends, colleagues, customers and future customers.
With restrictions likely to ease in the coming weeks, a surge of bookings is expected to follow to the conference. So, make sure you secure your seat now.
Maximize your exposure with an exhibition table, or grab one of the last sponsorships remaining.
We offer a value-for-money package with all events, meals and cabins included in the price.
WHERE? SILJA SYMPHONY

ROUTE? Stockholm-Helsinki-Stockholm
WHEN? 4-6 May, 2022

Theme
"Sustainability as the post-covid perspective"
Main programme sessions
Keynote speakers
Ro-pax, lifeline ferry and port executives panel debates
Ferry industry performance and megatrends
New ships and projects
Bunker market developments and trends
Alternative fuels and propulsions-experiences and lessons from the operator's point of view
Alternative fuel experiments of the past
Communication in time of crisis
Inspirations for the ferry industry
Interferry
Shippax Awards
Confirmed speakers:
Moderators:
Frederik Erdmann
Correspondent for Shippax since 1996 and professionally involved with shipping since 1999
Maren Budahn
Journalist with experience from politics and communication and with a passion to the sea
Rickard Ternblom
Management consultant and advisor, former Fjord Line CEO and a true "Ferry person"
Keynote speaker:
Bruce Dickinson
Businessman, Pilot and Lead Singer of Iron Maiden
Speakers:
Jim Anderson - Director of Vessels Caledonian Maritime Assets Limited
Thomas Andersson - CEO Ports of Stockholm
Aleksander Askeland - Chief Sales Officer Yara Marine Technologies
Austal - Speaker TBA
Mathias Bernander - Chief Marketing Officer Port of Kristiansand
Christer Bruzelius - Senior Partner & Project Owner Gotland Tech Development AB / Rederi AB Gotland
Mike Corrigan - CEO Interferry
Laurent Dupuis - VP Product Management ShorePower Cavotec
Håkan Enlund - EVP, Sales and Marketing Rauma Marine Constructions
Grimaldi Group - Speaker TBA
Ingemar Gustavsson - Director ACTEMIUM
Jan Hanses - CEO Viking Line
Kevin Hobbs - CEO Caledonian Maritime Assets Limited
Marcus Högblom - Vice President of Global Sales ABB Marine & Ports
Gjermund Johannessen - Managing Director Norwegian Ship Design
Kongsberg - Speaker TBA
Robin Meech - Managing Director Marine and Energy Consulting
Paavo Nõgene - CEO Tallink Grupp
Linus Olsson - Managing Director Rederi AB Ventrafiken
Achille Onorato - Vice chairman Moby S.p.A and CEO Moby S.p.A
Spiros Paschalis - CEO Attica Group
Bruce Peter - Professor of Design History at the Glasgow School of Art
Athanasios Porfyris - CEO Igoumenitsa Port Authority S.A.
Jóhan av Reyni - Maritime Director Smyril Line
Ulf Sandevärn - Marketing Manager Port of Karlshamn
Mårten Schei-Nilsson - Area Manager DNV
Pino Spadafora - Senior Director Marine Commercial RINA
Allan Sonne Sørensen - Partner & CEO EHRENBERG SØRENSEN Kommunikation
Billy Thalheimer - CEO REGENT
Per Westling - Managing Director Stena RoRo
Anders Ørgård - Chief Commercial Officer OSK-ShipTech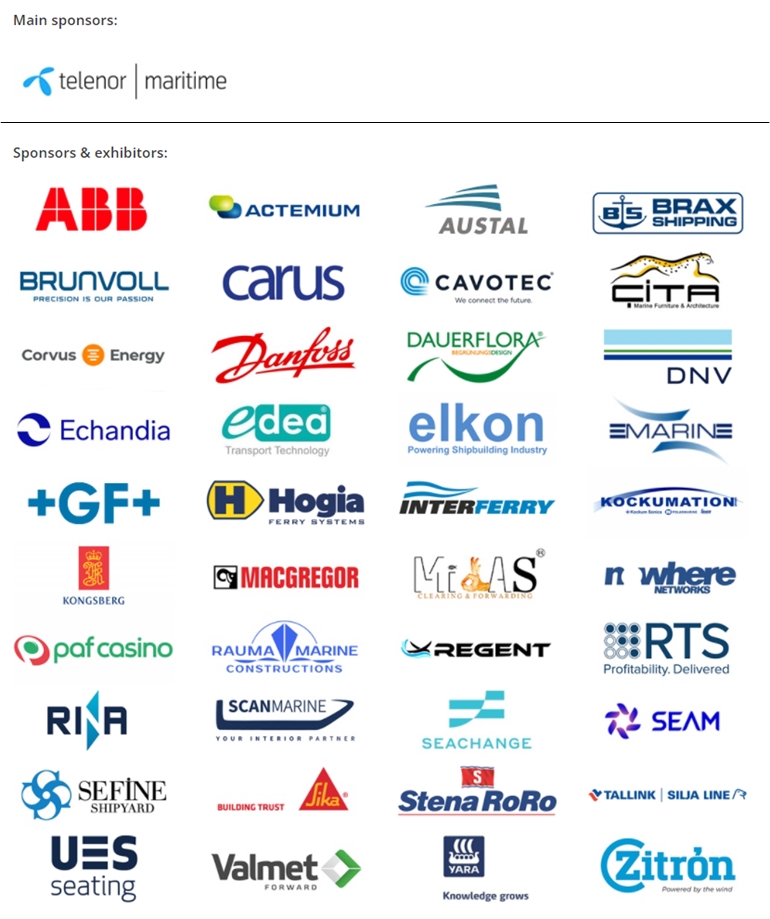 ---
Most read
Press Releases
Jan 26 2022
Viking Line puts AMORELLA on the Stockholm - Hels...
---
Jan 25 2022
Holland Norway Lines partners with COLUMBIA sign...
---
Jan 25 2022
Broad scope of Wärtsilä power solutions selected ...
---
See all press releases
Products