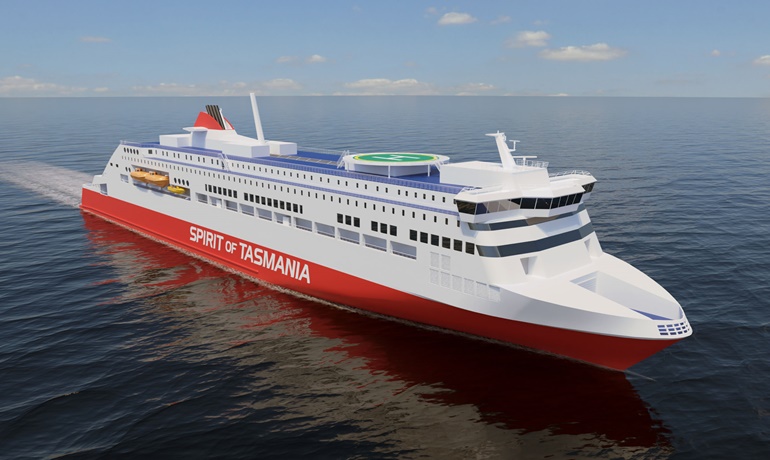 Rendering of the new 'Spirits' for Bass Strait service. © Rauma Marine Constructions
TT-Line Tasmania orders new ro-pax pair at RMC at last
FerryThe vaudeville to build two next-generation ro-pax ferries for Spirit of Tasmania's Devonport-Melbourne Bass Strait service locally has definitively come to an end following the signing of a firm contract with Rauma Marine Constructions (RMC) in Finland.
Already last month, the Tasmanian government had given the green light to TT-Line Company to resume negotiations with RMC for a period of 30 days. In the event that TT-Line and RMC were not able to reach a contractual agreement in these next 30 days, the contract would have proceeded to open market.
In February 2020, TT-Line signed a Memorandum of Understanding (MOU) with RMC after Flensburger Schiffbau-Gesellschaft (FSG) and TT-Line had mutually agreed to cancel its double-order at the then financially troubled German shipbuilder. Then, in July 2020, the Tasmanian government forced the TT-Line board to withdraw from the MOU it had signed with RMC. On account of COVID-19, state premier Peter Gutwein announced the government would rather explore local procurement and manufacturing options, making decisions that presented the greatest opportunity for local and Australian manufacturers.
Construction of the new 212m long ro-pax pair will start in spring 2022 with the first vessel to be delivered in late 2023 and the second one in late 2024. The MOU from February 2020 targeted a late 2022 delivery for hull number one and late 2023 delivery for the second ship, so about one year has been lost due to political interference.
Replacing the 1998-built, 1,140-passenger and 1,852-lanemetre capacity SPIRIT OF TASMANIA I and SPIRIT OF TASMANIA II, the new 48,000gt LNG-powered ro-pax ferries will have a capacity of 1,800 passengers and about 2,500 lanemetres on two freight decks. As a first for TT-Line Tasmania, the ferries will boast a separate upper car deck.
According to TT-Line Chairman Michael Grainger, the contract will include up to CAD 100 million of local content. He also said that despite some increases in material costs, at current exchange rates, the building price was likely to be cheaper than the previously negotiated price pre-COVID-19, without quoting an exact price on the basis of commercial confidence.
In addition to TT-Line's vessels, a project that represents 3,500-person years, RMC is completing Wasaline's state-of-the-art AURORA BOTNIA, now slated for delivery in mid-June, whilst Tallink's Tallinn-Helsinki shuttle ferry MYSTAR, a near sister ship of MEGASTAR, is expected to be delivered early next year. Four multi-purpose corvettes for the Finnish Defence Forces are equally part of the orderbook.
In a press statement, RMC said that production work had resumed to normal capacity after it had been forced to shut down production for a while in February after a cluster of coronavirus infections was revealed among workers at the shipyard.
The agreement with TT-Line increases the yard's orderbook to approximately EUR 1.6 billion. Last year, the Finnish shipbuilder's net sales more than quintupled from EUR 38.1 to EUR 220.1 million, whilst operating profit soared from EUR 1.9 million in 2019 to EUR 6.7 million in 2020.
© Shippax / PHO
---
Most read
Press Releases
Dec 03 2021
Construction begins of Silversea Cruises SILVER NOVA
---
Dec 03 2021
Contract awarded for piers upgrade for new Islay ...
---
Dec 03 2021
Zinus technology selected for two more norwegian ...
---
See all press releases
Products