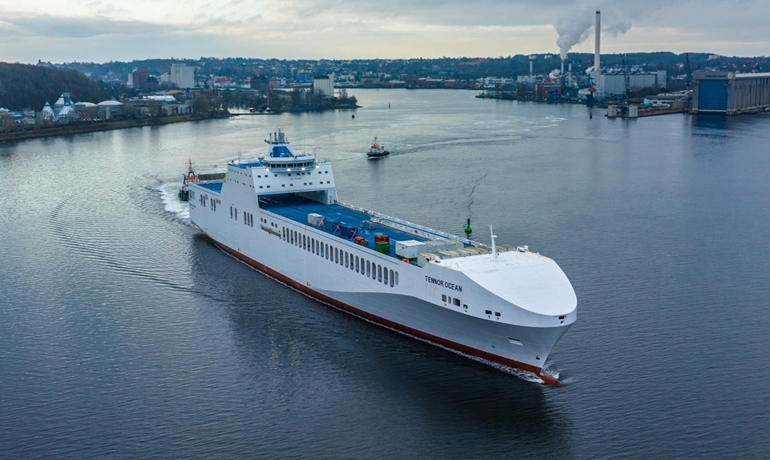 TENNOR OCEAN on the Flensburg Fjord © FSG/Finn Karstens
TENNOR OCEAN sets course for Bremerhaven
Ro-roNewbuilding 782 has left the Flensburg Fjord and set course for Bremerhaven. The 210-metre-long ro-ro is on the move to Dock 3 at Lloyd Werft. During its week-long stay there, the shipbuilders of Flensburger Schiffbau-Gesellschaft (FSG) will carry out the remaining work on the ship's hull to optimise the performance data. Afterwards, the TENNOR OCEAN will set out on a multi-day test voyage on the North Sea and the Baltic Sea where all technical systems will be checked and nautical manoeuvres will be carried out.
During the voyage from Flensburg to Bremerhaven, the 2.11-metre-high folding mast will be tested. It has been newly developed by FSG for this type of ship and enables the passage through the Kiel Canal. In this waterway, the mast height of a ship may not exceed 40 metres above the water level.
TENNOR OCEAN is able to accommodate 279 truck trailers on more than 4,000 lanemetres spread over four decks. The RoRo type 4100, which was developed by FSG and has already been built several times by the shipyard.
TENNOR OCEAN is built on speculation by FSG and does not have a known charterer or buyer yet.
Flensburger Schiffbau-Gesellschaft is a member of Lars Windhorst's Tennor Group.
Technical data newbuilding 782:
Length overall: 209.79 metres
Beam: 26 metres
Draught: 6.8 metres
Decks: 4
Gross tonnage: 32,770
Output Main Engines: 2 x 9,600 kW
Output Aux Engines: 2 x 1,270 kW
Service speed: 21.3 knots
Cargo: 4,007 lanemetres for 279 trailers
Cabins: 31 (total) for up to 12 lorry drivers und 26 crew
---