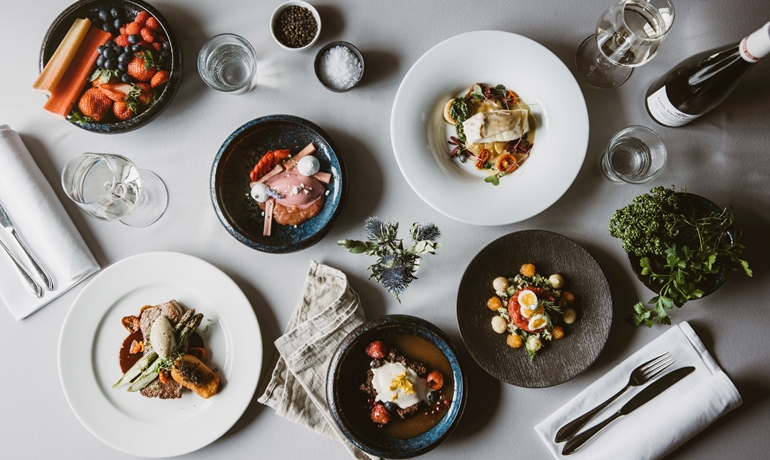 © Kajsa Charlotta Göransson / Tallink Grupp
Tallink Grupp's new Menu Nordic
Tallink Grupp has launched a new five-course gourmet menu titled Menu Nordic for the delight of fine dining enthusiasts travelling on the company's cruise vessels on routes between Helsinki-Stockholm and Tallinn-Stockholm.
The new Menu Nordic, created by Chef de Cuisine Jonas Niklasson of the company's vessel SILJA SYMPHONY,highlights authentic Scandinavian flavours, locally sourced seasonal produce and plays on exciting flavour combinations.
Commenting on the new Menu Nordic, Chef de Cuisine Jonas Niklasson of the company's vessel SILJA SYMPHONY, said:
- "The menu is inspired by the freshness of the seasonal Nordic ingredients, available only during the spring and summer season from the garden and forest, such as dandelion, nettle, ramsons, rhubarb, asparagus and strawberries. For example, the sauce for the cod is flavoured with dandelion syrup – it's not only fun to use dandelions, which are considered weeds, but it adds a beautiful bittersweet taste which is absolutely fantastic in this dish.
- "Reflecting on my native Swedish culinary heritage, this menu also evokes fond memories from my childhood. For example, the veal dish on the menu is a twist on my grandmother's recipe – roast veal, which I enjoyed as a child every Sunday at my grandparents' house with my family.
- "With huge thanks to the entire culinary team of our fleet, I'm really pleased with this menu, and I hope that our guests will be too – it is seasonal, fun and genuinely Nordic."
The five-course set Menu Nordic, available onboard the company's cruise vessels SILJA SERENADE and SILJA SYMPHONY in the Bon Vivant restaurant and onboard the company's vessel BALTIC QUEEN in the Gourmet restaurant, is renewed thrice a year and is available also as a  vegan version. The set menu is offered with a sommelier paired set of wines.
The five-course set menu is priced at EUR 85 excluding drinks. To accompany the menu, a set of sommelier choice of premium wines is priced at EUR 50, and non-alcoholic wines and cocktails at EUR 35. 
The Menu Nordic is available onboard until 13 September 2023.
MENU NORDIC 2023
Swedish beef tartare with fennel emulsion, pickled fennel, cucumber, mustard seeds, quail egg, and vendace roe
Charred and cured Arctic char, served with cauliflower purée, mustard vinaigrette with coffee seasoning, new potatoes, and deep-fried onion
Steamed cod fillet and fried scallops with white wine and dandelion sauce, served with nettle pesto, tomato, dandelion capers, and new potatoes
Oven-baked veal with creamy apple cider sauce, smoked pork belly, roasted potato, and lightly pickled cucumber
Rhubarb custard with strawberry yoghurt ice cream, poached rhubarb and vanilla meringue
MENU NORDIC VEGAN
Vegetable cocktail with fried and marinated tofu, avocado, asparagus, and mustard vinaigrette seasoned with coffee
Potato and truffle croquette with roasted green asparagus, cauliflower purée, hazelnuts and virgin rapeseed oil
Asparagus, cauliflower, chickpea and golden beet terrine served with a roasted vegetable and garlic broth, topped with sunflower seeds and fried onions
Salt-baked pointed cabbage glazed with ramsons pesto, mung bean stew with potatoes, spinach and creamy chanterelle sauce
Rhubarb custard with strawberry yoghurt ice cream, poached rhubarb and vanilla meringue
---