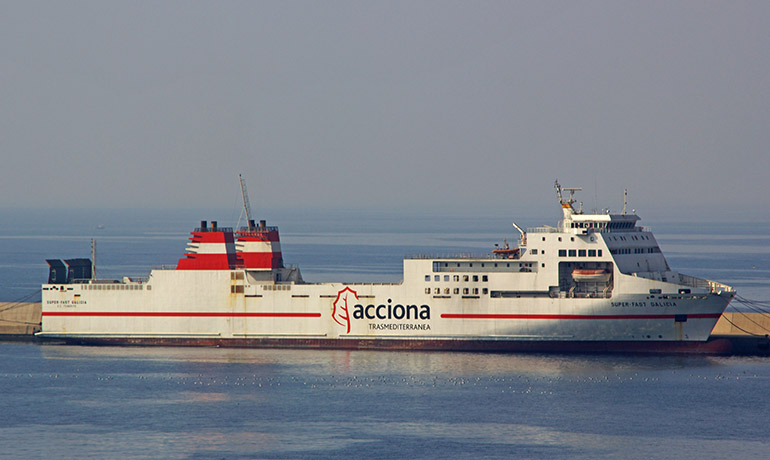 Photo: Manuel Hernández Lafuente
SUPER-FAST GALICIA to return to Spain
Ro-ro Trasmed have included the SUPER-FAST GALICIA in their plans as from the May 22.
This 1,762 lane metre vessel has been owned by Trasmed since 2005, but has recently been chartered out to operate in Trinidad and Tobago, between Scarborough and Port of Spain.

The vessel is due back in early 2017, and will be upgraded before entering service with Trasmed.
The vessel passenger capacity will also be increased to 300 to make it a more genuine ro-pax.
The vessel has appeared in the posted schedules in Trasmed's website, as operating between Valencia and Ibiza, and replacing the JUAN J SISTER, although the name no longer appears - perhaps a name change is in order?
 
The JUAN J SISTER appears on the Barcelona - Mahon route, replacing the SNAV ADRIATICO which does not appear in the May schedules, and perhaps will be off-hired.
 
With Balearia about to offer serious competition to Trasmed on the Melilla routes, and already competing out of Barcelona and Valencia, Trasmed may well undertake more vessel changes to meet the challenges.
 
© Shippax / Mike Barker
---
Most read
Press Releases
Aug 19 2022
KiwiRail selects MAN engines for new ferries
---
Aug 17 2022
Crowley Secures Subcontract for Casco Bay Lines H...
---
Aug 17 2022
Carnival Cruise Line says booking activity nearly...
---
See all press releases
Products