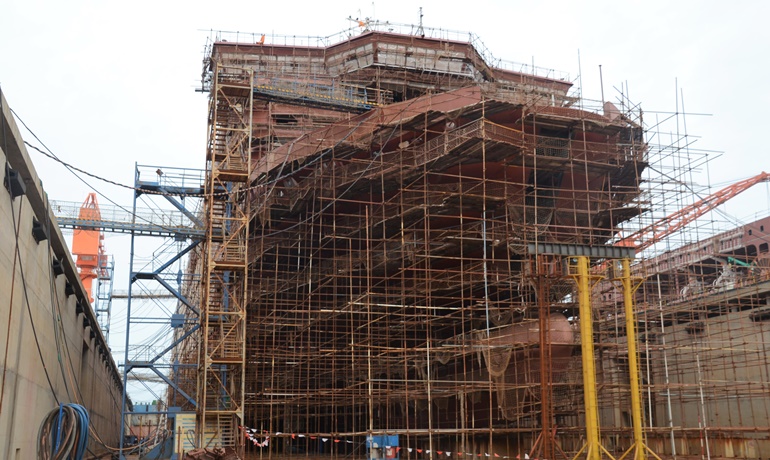 Stena's first E-Flexer in one of the building docks of AVIC Weihai on 5 December © Philippe Holthof
Stena's first E-Flexer almost ready to be floated
FerryAVIC Weihai's shipyard is a beehive of activity to get Stena's first E-Flexer ready for delivery in less than one year from now. Today, 5 December, Shippax inspected the accommodation mock-up and the ship itself – and how impressed we were! The yet-unnamed ro-pax – earmarked for Stena Line's Holyhead-Dublin service – is almost ready to be floated on 16 January. This event will coincide with the keel laying of the third ship in the E-Flexer series, the GALICIA (yard number 267) – a modified version that will be taken on long-term bareboat charter by Brittany Ferries.
In the March edition of ShippaxInfo, readers will get the full story of Stena's ultimate 'one size fits all ro-pax'. The first ship is still wrapped in scaffolding but this will disappear very soon to make her ready for the floating in full Stena Line livery. Exactly 615 yard people were working on board the ship today and Per Westling of Stena RoRo – the Stena AB subsidiary in charge of the supervision – told Shippax that he was impressed by the workmanship, also pointing out that that the deck plating was extremely flat – something that bodes well.
Ducting is complete and 75% of the cabling is in place. The yard has also started with the insulation and the last batch of windows should arrive from France next week. The scale 1/1 mock-up, combining bits and pieces of the ship's accommodation, including public spaces, cabins, stairs and signage, etc. felt like a real Stena Line ferry but Figura Arkitekter, the ship's interior architect, successfully managed to give it a more contemporary touch. We are eager to see the final result!
AVIC Shipyard delivered the ro-ro ROSA DEI VENTI to Giovanni Visentini in April. More recently the ro-pax NEW GRAND PEACE was delivered to Jiaodong Shipping Group. With eight E-Flexers on order and an option for three more ships of the same class, the Chinese mid-size shipyard is now the world's leading ro-pax builder. The shipyard management is poised to land more ro-pax orders and is primarily targeting ferry operators outside China with several potential projects in the pipeline, so watch this space!
Our next 'port of call' during this one-week-stay in China is Yantai.
© Shippax / Philippe Holthof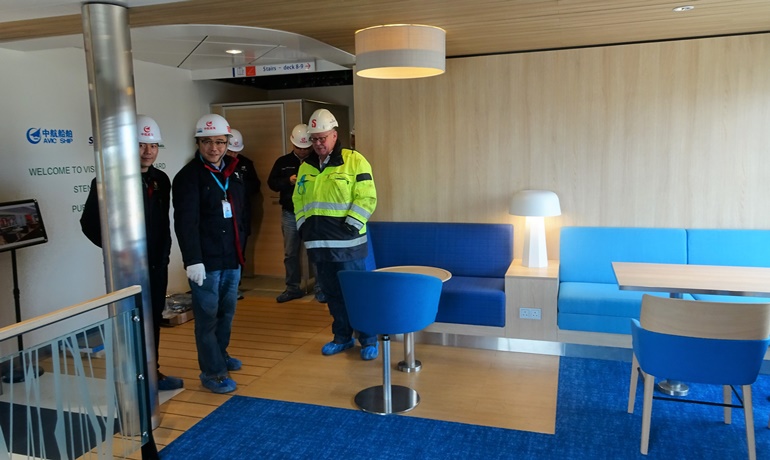 Sneak peek in the E-Flexer's mock-up with Bo Christensen, Stena RoRo's Site Manager, and shipyard management © Philippe Holthof
---
Most read
Press Releases
Jun 29 2022
MacGregor signs a five-year service agreement wit...
---
Jun 29 2022
Brittany Ferries confirms its 2022-2023 fleet pla...
---
Jun 29 2022
Tallink's ro-ro passenger vessel SAILOR to underg...
---
See all press releases
Products