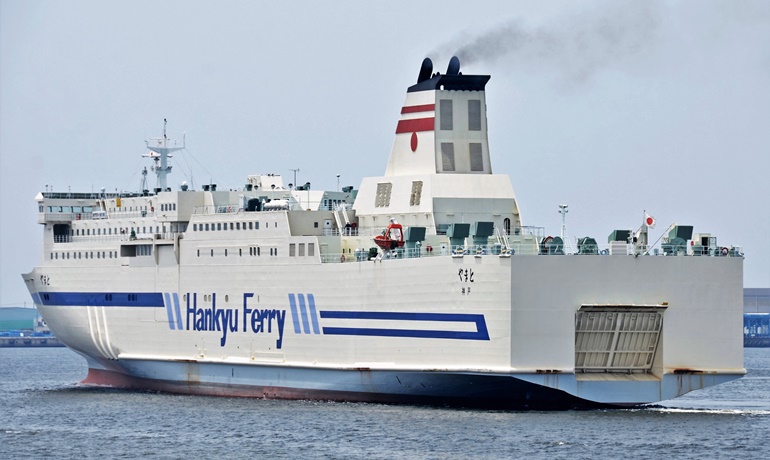 Stena RoRo has sold STENA NOVA, the former YAMATO of Hankyu Ferry. © Uwe Jakob
STENA NOVA sold to Philippines ferry giant
FerryThe 2003, Mitsubishi Shimonoseki-built STENA NOVA – the former YAMATO of Hankyu Ferry – has been sold to Chelsea Logistics Holdings Corporation (CLHC) for operation in the Philippines under the 2GO banner.
Stena RoRo earlier told Shippax that several parties had shown interest to either charter or buy the 195m long and 26.4m beam ferry and following a long period of cold layup in Malaysia, STENA NOVA arrived in Manila waters earlier today, 9 March.
Handover to the new owners is imminent and although there were conversion plans made by Stena, a major conversion now appears unlikely. As built, the 13,353grt (Japanese tonnage measurement) had a capacity of 2,350 freight lanemetres on two freight decks, 48 cars on a separate car deck and 667 passengers. Twin Wärtsilä 16V-38B engines with an output of 10,076kW each give the 6,445dwt ro-pax a 23.5-knot service speed.
2GO, the largest ferry operator in the Philippines, mainly operates long-haul services, primarily guaranteed by former Japanese ferries.
In other news, Stena RoRo has denied that the ro-pax cruise ferry SAGA – the former STENA SAGA – has been purchased by or chartered out to Bridgemans Services Group.  
© Shippax / Philippe Holthof
---
Most read
Press Releases
May 13 2022
Carnival Cruise Line breaks ground on new cruise ...
---
May 13 2022
MacGregor has received an order to supply RoRo eq...
---
May 11 2022
DFDS: April volume report: Freight Up 5%, Continu...
---
See all press releases
Products