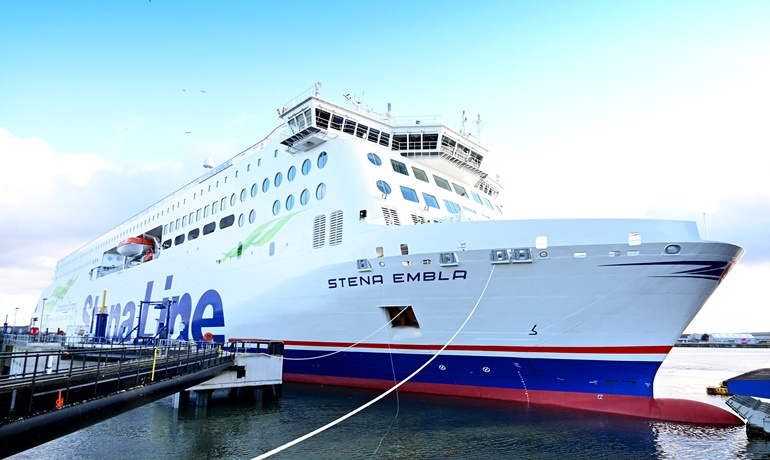 The high demand for driver-accompanied freight movements between Ireland and the continent has led to the temporary introduction of STENA EMBLA on Rosslare-Cherbourg. © Stena Line
Stena Line puts brand-new STENA EMBLA temporarily on direct Ireland-France route
FerryStena Line's third E-Flexer for Irish Sea service, the brand-new STENA EMBLA, will debut on Stena Line's six times weekly Rosslare-Cherbourg route later today, 14 January, temporarily replacing the Visentini Class STENA HORIZON which will be withdrawn from the route for maintenance reasons.
STENA EMBLA's first sailing from the Irish port will be at 20:25 tonight but Stena Line's PR & Communications Manager, Carl Mårtensson, told Shippax that the introduction of STENA EMBLA was not a long-term solution but rather a temporary one. "We are monitoring the market distortion created by Brexit closely and will review the situation week by week," he said, confirming that STENA EMBLA would be introduced alongside sister ship STENA EDDA on the Birkenhead (Liverpool)-Belfast route at a later date.
With the introduction of STENA EMBLA on the direct 'Brexit-proof' Rosslare-Cherbourg route, Stena Line is temporarily increasing its driver capacity as the 3,100-lanemetre E-Flexer has 175 cabins as opposed to 120 for the 2,285-lanemetre STENA HORIZON. STENA EMBLA will make three return sailings per week – the three other return sailings will continue to be operated by the 3,000-lanemetre and 12-driver capacity STENA FORETELLER, chartered in from Stena RoRo.
STENA EMBLA was supposed to replace the Visentini Class STENA MERSEY on the Birkenhead-Belfast route. Notwithstanding STENA EMBLA's spell on the direct Ireland-France route, STENA MERSEY is still expected to leave the Birkenhead-Belfast service at the end of this month to be lengthened and converted by Sedef Shipyard in Turkey.
© Shippax / Philippe Holthof
---
Most read
Press Releases
Jan 27 2021
PORT OF KIEL can nearly maintain its cargo transh...
---
Jan 27 2021
New shoreside power system reduces carbon emissio...
---
Jan 27 2021
BioHiTech Receives Approximately $2 Million in Ne...
---
See all press releases
Products