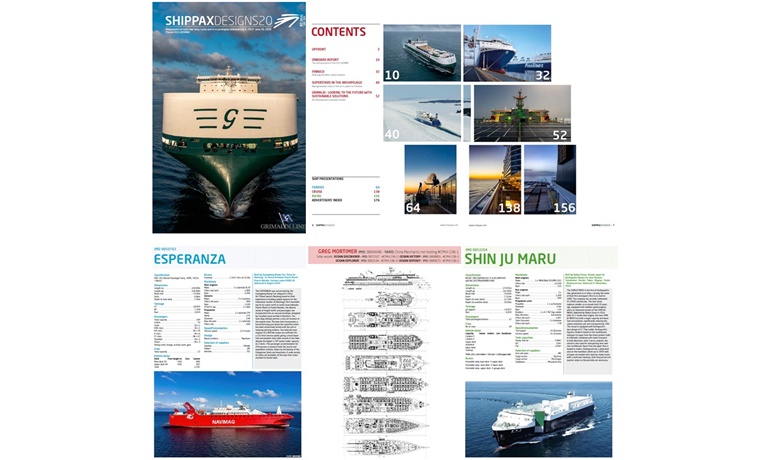 Shippax Designs 20 - OUT NOW!
Our annual publication presenting newbuildings and converted ships is published. Theme vessel is Grimaldi Group's ECO LIVORNO.
Articles:
Onboard report ECO LIVORNO - The technical parts of the ECO LIVORNO
FINNECO - Reducing the Baltic carbon footprint
Superstars in the archipelago - Next generation state-of-the-art ro-paxes for Finnlines
Grimaldi – looking to the future with sustainable solutions. An interview with Emanuele Grimaldi
Ferries:
ALFRED, AMAPOLA SOYA, COLOR HYBRID, ELLEN, ERESFJORD, ESPERANZA, FEDJEBJØRN, FERRY I, FERRY MISHIMA, FESTØYA, HANIL GOLD STELLA, HEILHORN, HILLEFJORD, ISLAND AURORA, KYOKUYO MARU, M2M-1, MATRE, SAFARI, SAMLAFJORD, SEA PASEO, SETTSU, STENA ESTRID, TRANS ASIA 20, TUSTNA, UTNEFJORD, ZHONG HUA FU XING

Cruise:
COSTA SMERALDA, GREG MORTIMER, NATIONAL GEOGRAPHIC ENDURANCE, SCARLET LADY, WORLD EXPLORER

Ro-ro:
EPHESUS SEAWAYS, GRANDE TORINO, HOKKAIDO MARU, KAI-OH MARU, LAURELINE, NICHIYU MARU, OLEANDER, RED KESTREL, TASMANIAN ACHIEVER II, UTOPIA
Order your copy here: https://www.shippax.com/en/webshop/shippax-designs-20.aspx
---
Most read
Press Releases
Jan 26 2022
Viking Line puts AMORELLA on the Stockholm - Hels...
---
Jan 25 2022
Holland Norway Lines partners with COLUMBIA sign...
---
Jan 25 2022
Broad scope of Wärtsilä power solutions selected ...
---
See all press releases
Products