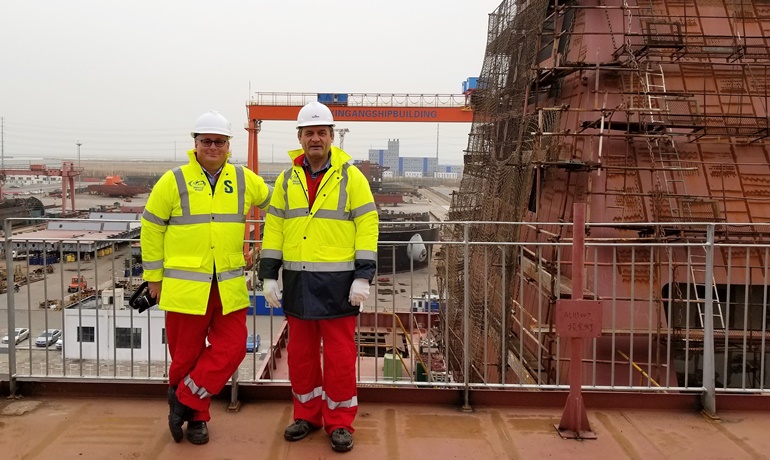 © Rikard Olsson
Greetings from Tianjin!
YardThis week Shippax is travelling in China to gain first-hand experience of the shipyard situation and the challenges and risks it brings about when building in China. The first stop is Tianjin, a Chinese metropolis where Mercy Ships' new hospital ship GLOBAL MERCY is taking shape at the Tianjin Xingang shipyard.
The coordination and yard supervision of this industry-first project is in the experienced hands of Stena RoRo, a leading tonnage provider for the ferry and ro-ro industry who has been instrumental in this unique Mercy Ships project ever since its inception six years ago.
In the March edition of ShippaxInfo readers will learn more about Stena RoRo's experience of building in China and how different this is from building closer home. The Mercy Ships order was a door-opener to the rest of China and once everything was in place, Stena RoRo was ready to take the next step – the order of the E-Flexers at AVIC Weihai. Weihai will be our next stop and in our next 'China update' we will add a picture of the E-Flexers under construction. The first – yet-unnamed – ship is expected to be floated out in January.
Later this week I will visit North Sea Offshore Technology (NSO), a Yantai-based turnkey accommodation solutions provider that is heavily involved in the outfitting of the public spaces of GLOBAL MERCY. The stop at Yantai will be followed by the naming ceremony of VISBORG in Nansha on Saturday 8 December.
More news from China will follow. Stay tuned.
© Shippax / Philippe Holthof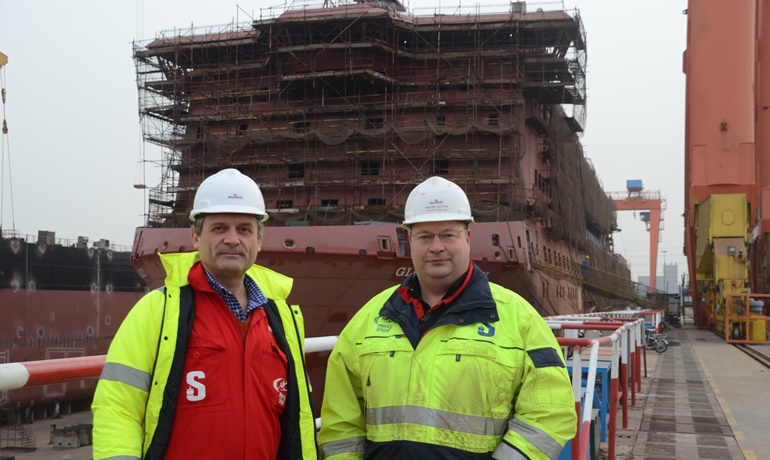 Per Westling, Stena RoRo's MD and Rikard Olsson, Stena RoRo's Project Manager for GLOBAL MERCY © Philippe Holthof
---
Most read
Press Releases
Jun 04 2020
DFDS in exciting EU-funded green automation project
---
Jun 04 2020
ABB partners with Vigor to pave the way for Washi...
---
Jun 04 2020
Accelerating digitalisation of maritime trade and...
---
See all press releases
Products