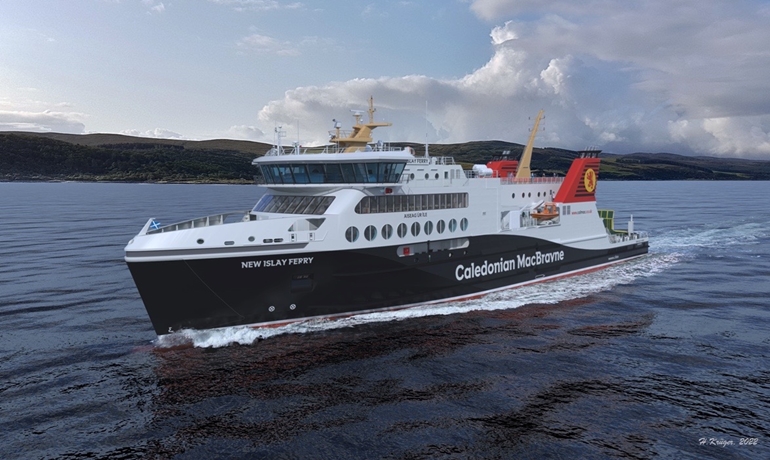 North Sea Handling to supply ro-ro equipment for CMAL's two additional new ro-pax ferries
FerryNorth Sea Handling AS is through its subsidiary NSH Ships Equipment AS awarded the contract to equip Scotland's Caledonian Maritime Assets Limited's (CMAL) additional two new ro-pax Ferries being built by Cemre Shipyard with state-of-the-art cargo and passenger access equipment.
The NSH scope of supply will include a wide range of equipment such as hoistable car decks, ramps, bow door/ramp and various doors and hatch covers.
Erik Hammargren, Senior Sales and Project Manager, NSH:
"Our involvement in this project started already a few years back providing the ship design company naValue with various analysis and later also the ro-ro hardware contract for the two first ferries together with Cemre Shipyard.
Getting the opportunity to deliver ro-ro equipment together with Cemre Shipyard and LMG Marin AS for the third and fourth ferry is something we are very proud of and looking forward to."
Burak Mursaloglu, Head of Business Development, Cemre Shipyard:
"North Sea Handling's satisfactory support during the tender period with prompt actions and flexibility according to the yard's expectations initiated an effective cooperation. We are proud and happy to be involved in this prestigious project with LMG Marin and Nort Sea Handling."
Jim Anderson, Director of Vessels, Caledonian Maritime Assets Limited:
"We look forward to working with the team at Cemre and NSH to deliver the ro-ro equipment for the two new vessels for the Little Minch routes between Uig, Lochmaddy and Tarbert (Harris). NSH have recently supplied and commissioned vehicle ramps for the newest vessel in the fleet LOCH FRISA."
---