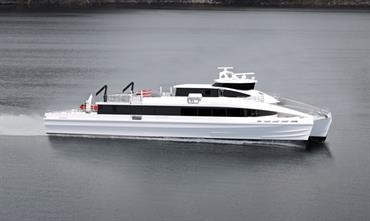 © Brødrene Aa
Norled orders two all-electric 40.6m catamaran passenger ferries from Brødrene Aa

Jul 28 2022
High-speed
Norwegian ferry operator Norled has ordered two new all-electric 40.6m catamaran passenger ferries from domestic builder Brødrne Aa. Both vessels will be delivered in January 2024 and will operate on Norled's new route between Bodø-Ytne-Gildeskå-Vaeran. Norled has been granted the license to operate this route from 1 January 2024, taking over from Torghatten Nord.
You are not logged in
Login in or become a member to read all the articles on shippax.com
Access to our online news service
Extended search function
Instant access after purchase
And much more!