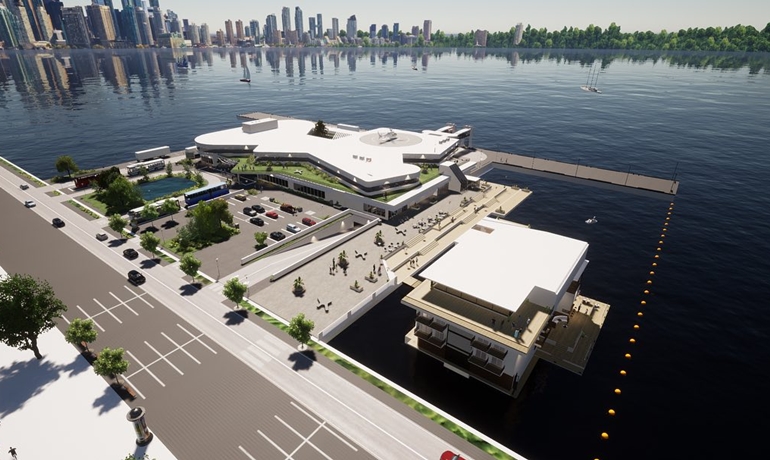 MEYER Floating Solutions unveils floating cruise terminal concept
CruiseMEYER Floating Solutions, an entity within the MEYER Group, has unveiled a groundbreaking advancement in the cruise industry: the world's first floating cruise terminals. These revolutionary terminals offer a more resource-efficient solution for cruise ports worldwide.
MEYER Floating Solutions has reimagined port development with a focus on flexibility and sustainability. This novel approach addresses the needs of ports lacking significant infrastructure while simultaneously providing the versatility to expand or relocate terminals as needed. Kaj Casén, CEO of MEYER Floating Solutions, underscores the benefits: "Our floating cruise terminals offer a dynamic solution for ports seeking seamless expansion options, ensuring the safety and confidence of both public and private investors." The floating solution offered by MEYER does not involve reinventing the wheel; rather, it combines the best practices and approaches from various industries, leveraging existing proven technologies. Floating assets up to full terminal size can be manufactured in a factory-like environment (e.g., shipyard), minimizing local site works such as land reclamation while maintaining crucial safety and operability aspects through fixed mooring arrangements such as mooring dolphins in the arrangement.
MEYER Floating Solutions boasts a diverse array of terminal designs that can be seamlessly integrated with complementary modules, including hotels, parking facilities, energy supply centers, and shopping complexes, all produced under the MEYER umbrella. From streamlined pier systems that minimize disruption to both land infrastructure and the natural environment, to complex terminals equipped with up to three piers accommodating multiple ships simultaneously, the possibilities are vast. The triad of pier options—ranging from 205 to 320 metres in length—has been meticulously designed to maximize utility within a footprint of 410 metres in length and 265 metres in width. "Our terminals are deliberately engineered to be modular, empowering operators to adeptly meet escalating demand and enhance their facilities with minimal on-site complexity," Casén adds.
© Shippax
---