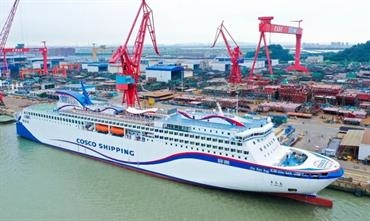 The sister ship JI LONG DAO was delivered in August last year © GSI
GSI delivers second of two ro-pax ferries for COSCO

Jan 18 2022
Ferry
On 18 January, Guangzhou Shipyard International (GSI) in Nansha, China delivered the second of two 43,195gt ro-pax ferries to COSCO Group Passenger Shipping. The 208m long and 28.6m beam XIANG LONG DAO will be introduced on COSCO's domestic Bohai Bay ferry service from Dalian to Yantai, together with its sister ship JI LONG DAO that was delivered in August last year.
You are not logged in
Login in or become a member to read all the articles on shippax.com
Access to our online news service
Extended search function
Instant access after purchase
And much more!