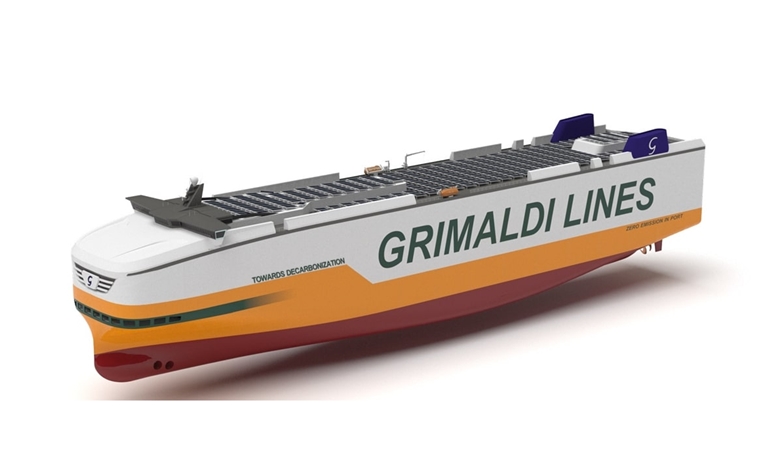 Grimaldi Group grows ammonia ready PCTC order book even further
Ro-roThe orderbook for the Grimaldi Group fleet keeps growing. As part of the agreement signed in late October with China Merchants Heavy Industries Jiangsu for the construction of five new 9,000 CEU PCTC vessels, the Group have exercised the option for another five units. With this latest order, the total number of car carriers ordered by the group has risen to 15.
The concept of the newbuildings was developed by the Grimaldi Group in collaboration with Knud E. Hansen. The 9,000 CEU PCTC's will have the Ammonia Ready class notation from RINA, which certifies that the ships are designed for eventual conversion for the use of ammonia as marine fuel.
These vessels will be equipped with mega lithium batteries, solar panels and shore connection capability. They will also include an air lubrication system, innovative propulsion and optimized hull design. Overall, the new ships will be able to cut fuel consumption by 50% compared to the previous generation of car carrier vessels.
The new PCTC's will be deployed on voyages between Europe, North Africa, and the Near and Far East to meet the new transport needs of automotive industry players.
"With our recent orders for the construction of new PCTC vessels, we've strengthened our long lasting and fruitful collaboration with China Merchant Industry Holdings," said Grimaldi Group Managing Director Emanuele Grimaldi. "We've also reaffirmed our commitment to our customers, especially the world's leading car manufacturers who continue to reward us with their trust. In this way, we'll continue to live up to their high expectations and meet their evolving needs, with our offer of increasingly efficient and environmentally sustainable shipping services. 10 out of 15 of our newly ordered car carriers will be deployed on the Far East trade and support the increasing development of China's automotive industry."
The ten vessels commissioned from China Merchants Heavy Industries Jiangsu will be delivered between 2025 and 2027. Overall, thanks to its recent investments totaling about USD 2.5 billion, the Group will take delivery of 25 new modern vessels over the next five years, including 15 ammonia-ready PCTC's (with option for another two units), six G5-class ro-ro multipurpose vessels, two GG5G-class hybrid ro-ro ships and two Superstar-class ro-pax units for Finnlines.
© Shippax
---