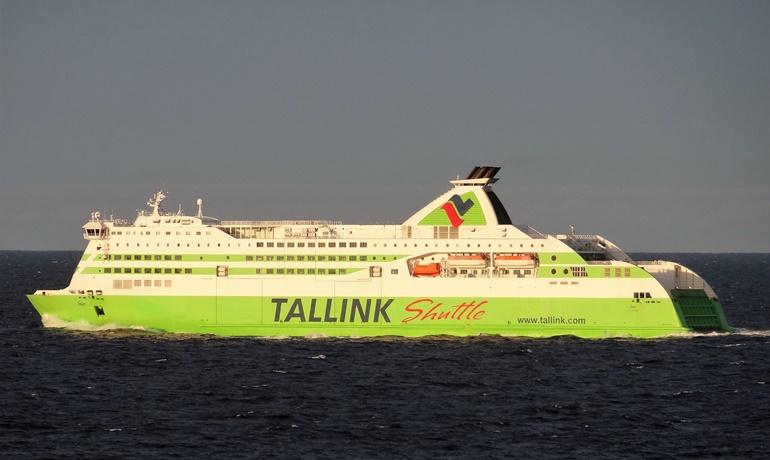 STAR will start a temporary long-distance service between Paldiski and Sassnitz, bypassing Latvia, Lithuania and Poland. © Philippe Holthof
COVID-19 ferry update – Wednesday 18 March
FerryAnother day has passed with announcements of further re-routings and route closures, not in the least DFDS's IJmuiden-Newcastle route.
Update 18 March:
- Due to the closure of borders and travel restrictions, Tallink Grupp will start operating STAR, one of its Tallinn-Helsinki Shuttle ro-pax ferries, on a long-distance route between Paldiski, Estonia and Sassnitz, Germany. With a crossing time of 20 hours, the 1,981-lanemetre and 131-cabin STAR will bypass Latvia, Lithuania and Poland. This 'lifeline' service has been requested by the Estonian Ministry of Economic Affairs and Communication. The new temporary service, which will prioritize food and medical supplies, will start tomorrow, 19 March.
- Tallink Grupp's BALTIC PRINCESS and GALAXY will temporarily no longer call at Stockholm and Åland, starting 20 March. The sister ships will instead operate the shorter Kapellskär-Turku route to transport cargo between Sweden and Finland.
- On 22 March, DFDS will suspend the passenger-oriented IJmuiden-Newcastle route until further notice. Earlier this week, the Copenhagen-Oslo route was already halted.
- Following further restrictions on intra-European travel and general lockdown measures across Europe, DFDS has suspended its outlook for 2020. Freight activity has been in line with expectations so far, but it has started to decrease as manufacturing plants suspend operations and demand in general is impacted by the lockdowns.
- Color Line, Hurtigruten and Fjord Line have implemented layoffs of both offshore and onshore staff. For Color Line alone, it concerns about 2,000 staff who are temporarily unemployed with an economic stimulus package in place to secure salaries and employee rights.
- To tackle a shortage of beds in Liguria, GNV's SPLENDID, which recently emerged from a scrubber retrofit, will be used for post hospital stays for COVID-19 patients. The ship is currently berthed in Genoa.
© Shippax / PHO
---
Most read
Press Releases
Mar 31 2020
Ferguson selects ICE for Design of Scottish RoPax...
---
Mar 31 2020
Made-to-Measure Incat Crowther Ro-Pax Ferry for B...
---
Mar 31 2020
Carnival Maritime utilizes the potential of mathe...
---
See all press releases
Products