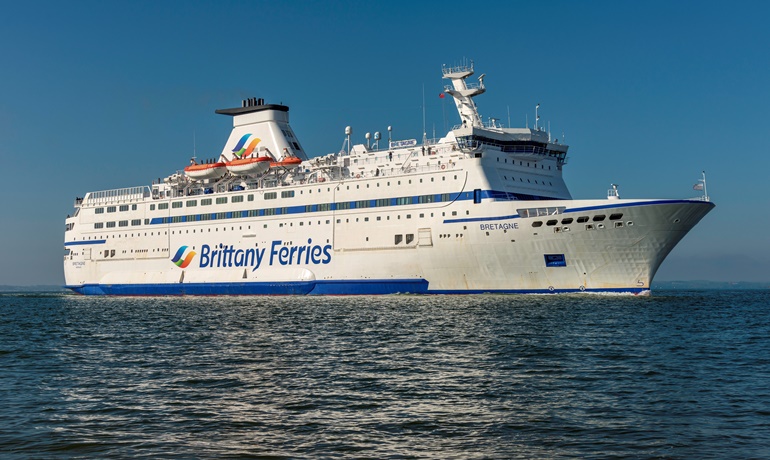 At the time of writing (the evening of 16 March), French President Macron announced a two-week lockdown. This will undoubtedly further affect ferry services between France and the UK. © Maritime Photographic
COVID-19 ferry update – Monday 16 March
FerryThe COVID-19 pandemic has forced ferry operators to adapt to the new business situation. As reported earlier today, Stena Line has reacted promptly, resulting in a planned layoff of 950 employees in Sweden. DFDS will send the crews from its laid-up CROWN SEAWAYS and PEARL SEAWAYS home and doesn't rule out redundancies outside Denmark. Is this just the tip of the iceberg?
Update 16 March:
- Stena Line Scandinavia AB will make 950 staff redundant. It concerns positions both on board and ashore, affecting nine Swedish-flagged vessels, as well as positions in the two sister companies Stena Line Travel Group and Retail & Food Services.
- The temporary discontinuation of DFDS's Copenhagen-Oslo cruise ferry service until at least 1 April, will see about 600 staff being sent home. This includes seagoing staff as well as shore-based staff involved in the daily operations of the Copenhagen-Oslo route. Thanks to a financial aid package from the Danish government, staff will remain paid. Although DFDS is less dependent on the passenger market than Stena Line – about 84 per cent of its total revenue is generated from its ro-ro, port and logistics operations – it cannot exclude redundancies.
- To minimise the spread of COVID-19 and protect the health of those travelling, DFDS has reduced the maximum number of passengers allowed on each crossing by 50% on its UK-France ferries until at least 6 April.
- Color Line continues with COLOR CARRIER and SUPERSPEED 2 only. The latter vessel operates in freight-only mode on the Larvik-Hirtshals route.
- Tallink's SILJA EUROPA, which primarily targets the Helsinki-Tallinn 'cruise market', will be sidelined. SILJA EUROPA left Helsinki for Tallinn in the evening of 16 March. On board were passengers with a one-way ticket. From 17 March, the vessel will be laid up in Tallinn until further notice.
- Brittany Ferries has announced further changes to its sailing schedule in response to changing government policy in France, Spain and Ireland, and to protect all passengers and crew members: Cherbourg-Poole to be discontinued until at least 23 March; Saint-Malo-Portsmouth to be discontinued until at least 24 March; Roscoff-Plymouth to be discontinued (on 18 March) until at least 26 March; UK-Spain operations will continue, only carrying passengers who must return home, therefore offering a lifeline-only service for British and Spanish citizens – freight will continue to be carried as normal; the weekly Rosslare-Roscoff-Rosslare rotation to be ceased. KERRY will continue to carry freight between Rosslare and Bilbao twice per week.
Sailings between Ouistreham (Caen) and Portsmouth will continue as normal, for passengers and for freight. Further changes are expected as at the time of writing (in the evening of 16 March), French President Macron announced the country would go on a two-week lockdown.
- Armas-Trasmediterránea has announced that the service between Gandia-Ibiza and Palma, due to operate from 3 until 14 April, has been cancelled. The service was due to be operated by the high-speed ro-pax catamaran VOLCAN DE TENO. With a state of alarm declared in the country, and travel reduced to a minimum, this has come as no surprise.
- The regional government of the Balearic Islands has agreed to restrict the number of sailings linking Ibiza with the island of Formentera to 10 in each direction. Usually there are more than 40 sailings in each direction – with crossings taking between 15 and 30 minutes.
- Also P&O Ferries sent out a press release today, stating that "Notwithstanding the current uncertainty, we are confident that our services will keep running. We're doing everything we can to minimise the risks by intensifying the cleaning protocols on board our ships, switching from air conditioning to 100 per cent fresh air and working closely with Public Health England and maritime experts at the World Health Organisation (WHO) to follow best practice on COVID-19." The two-week lockdown of France might make this statement obsolete.
© Shippax / PHO / MBA / PR
---
Most read
Press Releases
Mar 31 2020
Ferguson selects ICE for Design of Scottish RoPax...
---
Mar 31 2020
Made-to-Measure Incat Crowther Ro-Pax Ferry for B...
---
Mar 31 2020
Carnival Maritime utilizes the potential of mathe...
---
See all press releases
Products