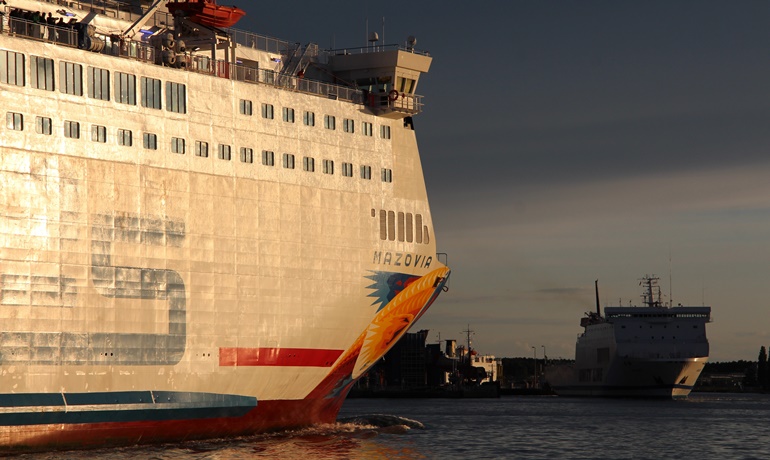 Dark clouds gathering over the ferry and cruise industry due to COVID-19. © Kai Ortel
COVID-19 ferry and cruise update – weekend of 14 and 15 March
FerryCruiseIn an effort to contain the COVID-19 virus and slow its spread, many countries have now taken far-reaching measures that directly affect ferry and cruise ship travel (the UK is one of the exceptions, but for how much longer?). As international travel in certain parts of Europe and the world is almost coming to a standstill, ro-pax operations in parts of Northern and Southern Europe have become a freight-only affair as freight movements are not stopped. To prepare for the possibility that many crew may not be available to work, either through self-isolation or because they are caring for family members at home, Brittany Ferries has changed its ferry schedules. It is possible that other operators will follow this example as the number of Coronavirus patients increase.
What follows is a short recap of changes to ferry and cruise ship operations announced during the weekend of 14-15 March. Please note that this is 'a snapshot in time' – decisions are often reviewed when new measures from national governments are implemented.
- As from 16 March, Fjord Line will cease its daily Hirtshals-Langesund and Hirtshals-Stavanger-Bergen services. One of the ships will operate a twice daily emergency (freight) service between Hirtshals and Kristiansand. The Sandefjord-Strömstad route was stopped on 15 March. Color Line has also discontinued this service.
- Stena Line has temporarily ceased the Frederikshavn-Oslo route with STENA SAGA being sidelined in Gothenburg.
- As Denmark and Poland decided to seal their borders, new entry restrictions apply. Other countries in the Baltic are following the example of Denmark and Poland. Ferry operators serving these countries continue to operate, albeit in freight-only mode.
- FRS subsidiary Syltfähre has discontinued to accept passengers, carrying freight only.
- From 16 March, Tallink Grupp will cease its Riga-Stockholm route until further notice. ROMANTIKA and ISABELLE will both remain in Riga. Freight will be diverted via the company's Paldiski-Kappelskär route, providing the land border between Estonia and Latvia enables border crossing.
- Tallink Grupp has discontinued the daily Tallinn-Stockholm service until further notice. The freighter REGAL STAR, operating on the Paldiski-Kapellskär route, continues to operate between Estonia and Sweden to guarantee transport of goods. The vessel will operate according to a non-fixed schedule.
- Eckerö Linjen will close its Eckerö-Grisslehamn service operated by ECKERÖ from 16 March until 14 April.
- Brittany Ferries has implemented the following service changes until at least 9 April: ETRETAT will be withdrawn from service following her arrival into Le Havre (from Portsmouth) on 17 March; following her drydocking in Poland, flagship PONT-AVEN will not return to service on the Portsmouth-Santander and Plymouth-Roscoff-Cork routes as planned on 17 March until at least 9 April; KERRY will operate between Rosslare and Bilbao as freight-only ferry until at least 9 April; the freight-only service between Poole and Bilbao will only carry unaccompanied trailers. Brittany Ferries is advising passengers travelling to Spain shouldn't do so unless it's essential.
- Viking Line's VIKING CINDERELLA will discontinue its Stockholm-Mariehamn cruises 16 March-16 April. Birka Cruises' BIRKA STOCKHOLM, also operating Stockholm-Mariehamn cruises, has been withdrawn from service until 14 April.
- Royal Caribbean Cruises Ltd. has suspended the sailings of its fleet with all current sailings to be concluded as scheduled. RCL brands are Royal Caribbean International, Celebrity Cruises, Azamara, Silversea, TUI Cruises, and Pullmantur Cruceros. RCL expects to return to service on 11 April.
- Carnival Corporation-controlled cruise lines Carnival Cruise Line, Cunard North America, Holland America Line and Seabourn are suspending new cruise voyages. Princess Cruises earlier announced to temporarily stop cruise operations.
- MSC Cruises is temporarily stopping all its US-based cruises until 30 April.
- Cruise and Maritime Voyages has suspended worldwide cruise operations for six weeks until 24 April.
- Fred. Olsen Cruise Lines has paused all cruise operations until 23 May.
- In Europe, Italy is most impacted by the Coronavirus spread. Cruise ship builder Fincantieri has suspended production at its Italian shipyards for two weeks.
© Shippax / Philippe Holthof
---
Most read
Press Releases
Jul 03 2020
Costa extends pause for its cruises until August ...
---
Jul 02 2020
Condor Ferries to resume sailings to the Channel ...
---
Jul 02 2020
AIDA Cruises extends pause of its operation until...
---
See all press releases
Products