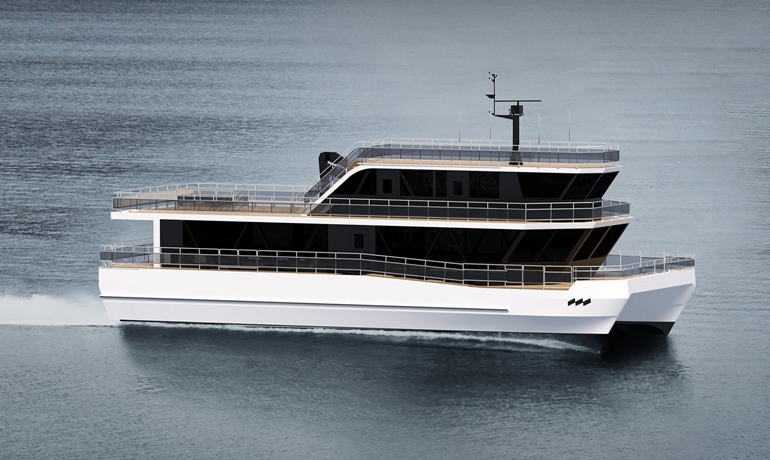 BRE © Brødrene A
Brødrene Aa to construct a new hybrid vessel to Bodø with dual function
High-speedNorled and Brødrene Aa have entered into a contract for the construction of a new hybrid electric vessel which will be named BRE.
The fast ferry will have a dual function and serve as both a reserve vessel on the connection Bodø-Væran and Bodø-Gildeskål for Norled, and as a 100% electric sightseeing vessel for Brim Explorer in periods when it's not in regular service.
- This is one of three new environmentally friendly vessels specially built for the connection. Norled will have a hybridization rate of 70% electric operation when operating the routes, which will help to reduce emissions on the connection considerably, says Heidi Wolden, managing director of Norled.
Brim Explorer will operate the sightseeing vessel in the area around Bodø. BRE is designed as a modern and universally designed vessel with good passenger comfort and panoramic windows for optimal views. There will be room for 130 passengers, as well as luggage, bicycles and kayaks.
The top speed will be around 30 knots and the length of the vessel is 24 metres. It will be equipped with a 1.2 MWh battery, and an all-electric powertrain with diesel-powered range extenders.
- We are naturally very happy about the contract with Norled for the construction of the reserve vessel for these routes. It is particularly pleasing that two shipping companies with which we already have an established partnership are coming together in this way, says Tor Øyvin Aa, CEO of Brødrene Aa.
- Bodø is the gateway to a beautiful area in Nordland that we look forward to exploring with guests on board. We believe our products will be a positive contribution to an exciting growing destination, says Agnes Árnadóttir, CEO of Brim Explorer.
Brødrene Aa will build the hybrid vessel in carbon fibre. The company in Hyen believes that the low weight and energy efficiency are decisive in meeting low and zero emission requirements.
- With this vessel, we will be able to demonstrate how a light construction material such as carbon fiber gives advantages both during operations at low speed - and as a fast ferry. At the same time, the material ensures a long life for the boat. Together with the combined operation that the shipping company plans to add, it provides good resource utilization. All these are important, positive aspects from a sustainability perspective, explains Tor Øyvin Aa.
© Shippax
---