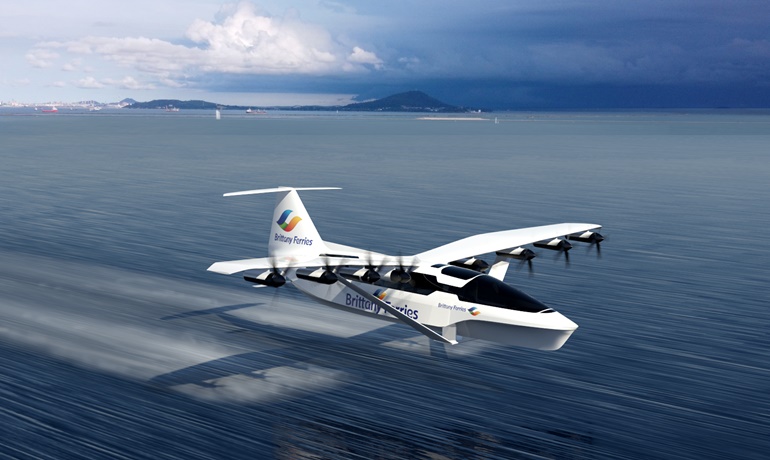 The shape of things to come in 2028 for Brittany Ferries? Zero-emission high-speed seagliders. © Brittany Ferries
Brittany Ferries envisages introducing all-electric 'seaglider' passenger-only ferries by 2028
High-speedBrittany Ferries has signed a Letter of Intent with Regional Electric Ground Effect Nautical Transport (REGENT) for the development of zero-emission high-speed 'seagliders', a new all-electric wing-in-ground effect vehicle (WIG) that combines hydrofoil with airplane technology, promising a sustainable and more efficient form of ferry travel.
REGENT is a Boston, US-based start-up working on several different sizes of passenger-carrying seagliders. It expects to bring its first seaglider on the market come 2025. The seaglider concept effectively foils like a hydrofoil and flies like a plane, offering the comfort of hydrofoils, the aerodynamic efficiency of hovercraft and the speed of aircraft. The craft are expected to fly at speeds of up to 180 miles per hour or 156 knots – almost seven times faster than conventional ferries. The craft boast a battery-powered range of 180 nautical miles with existing battery technology, but could service routes of up to 500 nautical miles with next-generation batteries.
The Letter of Intent signed by Brittany Ferries calls for seaglider passenger-only ferries with a capacity of 50 to 150 passengers. Brittany Ferries believes that the first such craft could operate between France and the UK by 2028. A 78-nautical-mile seaglider voyage between Cherbourg and Portsmouth could be covered in as little as 40 minutes.
Similar to a hovercraft, the battery-powered seagliders fly on a dynamic air cushion created by the pressurised air between the wings and the water. The aerodynamic advantage of this so-called ground effect, combined with operational efficiencies of always being a few feet away from a safe landing, give seagliders double the range of an electric aircraft.
Following departure from port, the high-speed craft initially operates at 'low' speeds of 20 to 45 miles per hour (17-39 knots) on a hydrofoil offering comfortable, wave-tolerant sailing. Upon reaching open water, it then takes off and accelerates to its service speed staying within one wingspan of the water's surface. Flight safety comes courtesy of redundant propulsion and flight control systems, with next-generation sensor suites detecting and automatically avoiding traffic at sea.
Commenting on the Letter of Intent signed with REGENT, Brittany Ferries Ports and Operations Director Frédéric Pouget said: "Seaglider is an attractive and exciting concept and we look forward to working with REGENT in the months and years to come.
"We are particularly pleased to contribute now because it means we can bring real-world challenges and potential applications into the company's thinking at an early stage. We hope this may help bring commercial success in the years that follow. Who knows; this could be the birth of ferries that fly across the Channel."
Both Brittany Ferries and REGENT realise that many technological, practical and regulatory hurdles still have to be taken. However, both companies say that caution should not stand as an impediment to the development of a promising concept that already has a history in military applications and smaller leisure craft operating around the world.
© Shippax / PHO / PR
---
Most read
Press Releases
Oct 20 2021
Joint development agreement signed between I-Tech...
---
Oct 19 2021
European shipowners support the uptake of clean f...
---
Oct 19 2021
Kongsberg Maritime and China Merchants Industry s...
---
See all press releases
Products