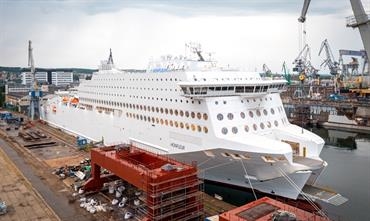 HONFLEUR at Nauta Shiprepair yard in Gdynia © Evaldas Lasys
[UPDATED] Baleària charters HONFLEUR for six months

Mar 01 2023
Ferry
The immediate future of the LNG ro-pax HONFLEUR looks to have been resolved, with Baleària taking the 1,680-passenger capacity, 2,600 lanemetre ferry on charter for six months. HONFLEUR is currently lying alongside Poland's Nauta Shiprepair yard in Gdynia.
You are not logged in
Login in or become a member to read all the articles on shippax.com
Access to our online news service
Extended search function
Instant access after purchase
And much more!
Most read

CLdN to start new Teesport service from Zeebrugge / Rotterdam and significantly expand capacity to Purfleet
Mar 14 2023
DFDS to launch new Izmir - Sète ro-ro route on 2 April 2023
Mar 14 2023