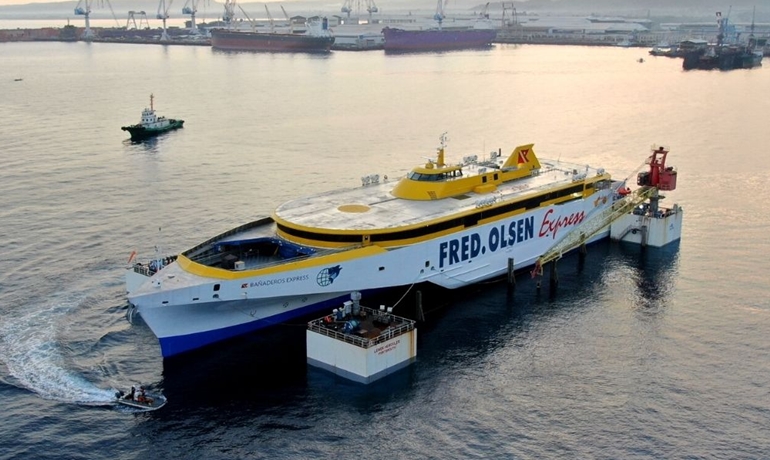 BANADEROS EXPRESS © Austal
Austal Philippines launches the BANADEROS EXPRESS for Fred. Olsen Express
High-speedFred. Olsen Express's 118m BANADEROS EXPRESS took to the water at Austal shipyard in Cebu, the Philippines. The high-speed trimaran is a sister ship to the BAJAMAR EXPRESS, delivered in July last year from Austal in Australia.
BANADEROS EXPRESS will be entering its service between Gran Canaria and Tenerife in September.
The new trimarans feature multiple bars, kiosks, a retail shop and children's play area. They can carry up to 1,100 passengers and 276 cars at a service speed of 38 knots. BAJAMAR EXPRESS reached trial speeds in excess of 44 knots, benefitting from Austal's new MARINELINK-Smart technology, providing real-time analysis of the vessel's performance.
© Shippax / VMA / PR
---
Most read
Press Releases
May 12 2021
Deltamarin is proud to be part of Höegh Autoliner...
---
May 12 2021
Quiet Milestone
---
May 12 2021
Grimaldi fleet: RINA certifies the improvement of...
---
See all press releases
Products