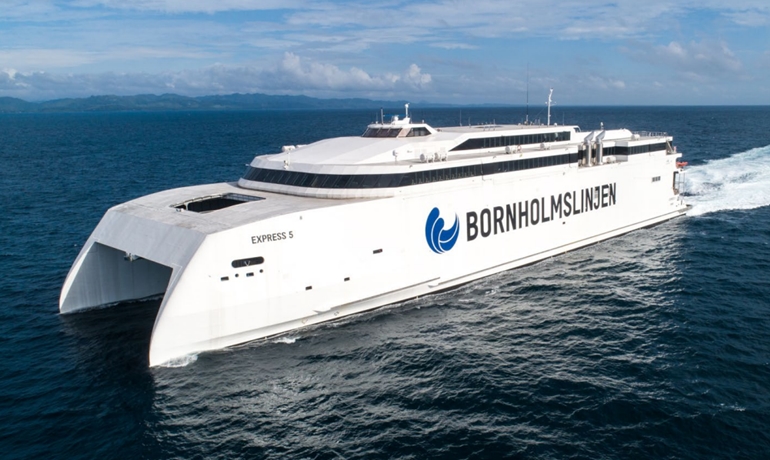 EXPRESS 5 © Austal
Ascension Day traffic record for Bornholmslinjen
High-speedNever before have there been more people and cars back and forth to Bornholm during an Ascension holiday like the one in 2023. Almost 48,000 traveled from and including Wednesday to Sunday, thereby breaking the record from 2022.
This year the new EXPRESS 5, together with EXPRESS 1 shared the task of getting passengers and cars back and forth to Bornholm.
The result was a new Ascension Day record with 47,938 passengers and 12,943 cars. For passengers, this is 1.3 percent better than in 2022, while cars are 4.2 percent above last year.
Behind the figure are completed journeys on Rønne-Ystad, Rønne-Køge and Rønne-Sassnitz from 17 to 21 May compared to the corresponding days around Ascension Day in previous years.
"It is very satisfying that Bornholm is still so popular, and we are happy that we have succeeded in breaking these records once again. It shows us that we can develop the traffic to and from Bornholm", says Molslinjen's commercial director, Jesper Skovgaard.
He believes that there is reason for optimism, as the new capacity on Bornholm cannot yet be fully utilized.
"We still have to sail with reduced capacity on EXPRESS 5, because the ramps in Rønne are not yet ready, as they are in Ystad. So, when we get the area converted at some point, we can utilize the full potential with the two large ferries at once", says Jesper Skovgaard.
The ferries on all three routes sailed a total of 90 departures during the Ascension days.   
© Shippax
---