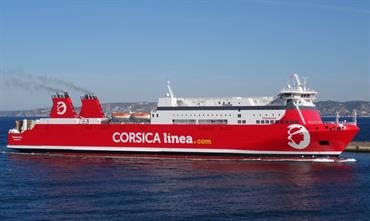 Finnlines sold FINNCLIPPER to Grimaldi Group in March 2022, but will soon purchase VIZZAVONA (photo) from the Parent to replace FINNCLIPPER © Jean-Pierre Fabre
A strong first quarter of 2022 for Finnlines

May 11 2022
Finance
Emanuele Grimaldi, President and CEO, "The Finnlines Group recorded revenue totalling EUR 157.0 (124.1) million in the first quarter of 2022, an increase of 27% compared to the same reporting period in the previous year. Shipping and Sea Transport Services generated revenue amounting to EUR 150.6 (117.8) million, of which passenger related revenue was EUR 7.5 (5.1) million. The revenue of Port Operations was EUR 12.1 (11.7) million. Cargo volumes are clearly above the 2021 level, and the number of passengers also increased compared to 2021. Revenue of Port Operations also increased due to the growth of cargo.
You are not logged in
Login in or become a member to read all the articles on shippax.com
Access to our online news service
Extended search function
Instant access after purchase
And much more!