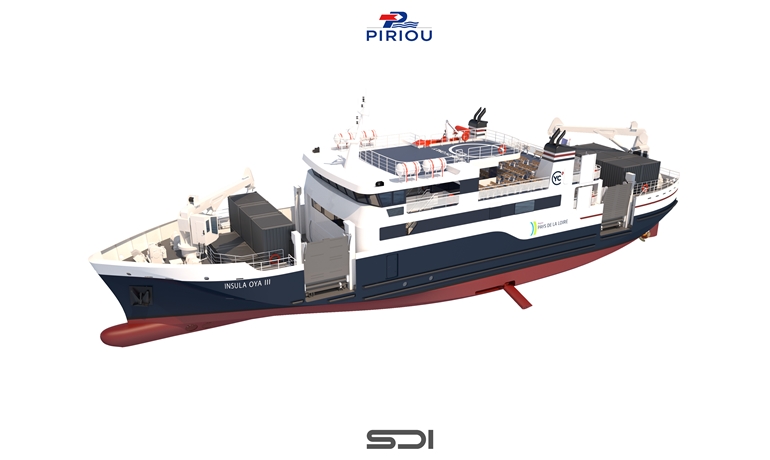 INSULA OYA III © Stirling Design International
Stirling Design and Piriou shipyard design a new coastal ferry vessel for public transportation towards "Yeu" island
French Regional authority "Région des Pays de la Loire" announced on December 22nd the public tender award to Piriou Shipyard for the design and construction of the future coastal ferry vessel for servicing "Yeu" island, on the French Atlantic coast. The new ferry will replace the existing vessel, INSULA OYA II in 2022, after 40 years of continuous operation.
Stirling Design International (SDI), French design office specialized in transportation design and naval architecture built a partnership with Piriou shipyard since the start of the competitive tender process in 2019, for a significant contribution to ship concept and architecture, engineering, external design and interior design of passenger lounges.
Thanks to this newbuilding, Ship Owner "Région des Pays de la Loire" and Ship Operator "Compagnie Yeu Continent" will benefit from a 40 % increase of capacity, with larger roro spaces, additional cargo deck space on deck and in holds, and additional passenger capacity.
Ship specification focuses on enhanced cargo facilities on board, to accommodate 10" containers and 19T trucks on roro spaces fore and aft. Passenger comfort has been addressed with care during the design of the spacious lounges. Improved seakeeping capabilities will be welcomed by all ship users.
Ship noise emissions and aerial emissions have been drastically reduced during ship calls with cold ironing system installed on board and in Port Joinville and Fromentine Ports. All diesel engines will be turned off in port, contributing to ship operation decarbonization.
Ship design and architecture has been developed with great care. Among others, reference ships INSULA OYA- built in 1935 and PRESIDENT AUGUSTE DURAND built in 1961 have been used for concept design development, underlining the vertical superstructure forward with and aerial view from the upper bridge. Ship styling is inspired by passenger cargo vessel operated in early XX century.
Passenger lounge design is in line with traditional veneer wood ship interiors with a strong intend towards warm modern design. Two separate passenger lounges are provided, and an open deck lounge on upper deck aft. Ship steel construction will debut in 2021 for a ship delivery in 2022.
Stirling Design International (SDI) signs with Piriou Shipyard an additional reference in the field of coastal ferries, after recent project completion for luxury cruise ship operator Ponant, the 150m Polar Ship COMMANDANT CHARCOT.
Main characteristics INSULA OYA III:
Length: 55m
Beam: 12.6m
Design Draft: 2.35m
Passenger: 391
Crew: 8
---
Most read
Press Releases
Jan 27 2021
PORT OF KIEL can nearly maintain its cargo transh...
---
Jan 27 2021
New shoreside power system reduces carbon emissio...
---
Jan 27 2021
BioHiTech Receives Approximately $2 Million in Ne...
---
See all press releases
Products