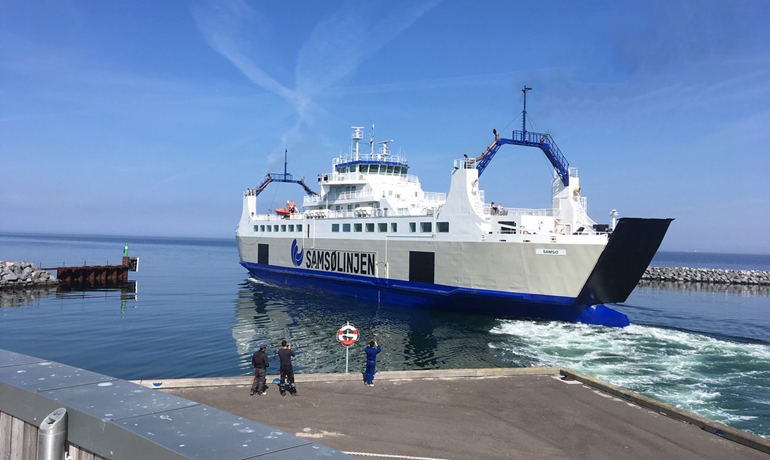 SAMSØ © Samsølinjen
Record for the Samsølinjen
Samsølinjen's ferry route between Kalundborg and Ballen on Samsø has set a record in 2021. Never before in the route's history have there been more cars and passengers with to and from the island in the Kattegat.
Samsølinjen has been busy in 2021. The company's traffic figures from last year shows that never before in the route's history have there been more passengers and cars on the ferry SAMSØ, which sails between Zealand's Kalundborg and Ballen on Samsø.
In 2021, 230,297 travelers chose to take the trip to and from Samsø on the Zealand route. During the same period, the ferry SAMSØ carried a total of 79,703 cars to and from the island. Cars and passengers were distributed on a total of 2,074 departures - also more than ever.
In 2020, the number of passengers was 214,675 and the number of cars was 71,680. Departures in 2020 were 2,036.
"We clearly see in the passenger numbers what a difference it makes when we increase the frequency and sail more departures. This trend will continue in 2022, where we will sail even more departures ", says Molslinjen's commercial director, Jesper Skovgaard.
More departures to and from Samsø are expected to be an important part of the forthcoming tender for the route, which the Ministry of Transport is expected to publish this month.
"Our bid for the samsølinjen will be a completely newly built electric ferry, which in relation to the current ferry will have a larger capacity, so that the number of the many sold-out departures can be reduced. The ferry is planned to sail on 100% green electricity, so departures from January 2025 will be completely CO2-free. This is our bid for the best solution for Samsø and for the climate, "says Jesper Skovgaard.   
---
Most read
Press Releases
Jan 26 2022
Viking Line puts AMORELLA on the Stockholm - Hels...
---
Jan 25 2022
Holland Norway Lines partners with COLUMBIA sign...
---
Jan 25 2022
Broad scope of Wärtsilä power solutions selected ...
---
See all press releases
Products